First grader raises funds for St. Vincent de Paul, other organizations
March 1, 2012
DAYTON DEANERY — After seeing many homeless people in Dayton from her family's minivan window, Grace Bete, a first grader at Ascension School in Kettering, decided she needed to take action.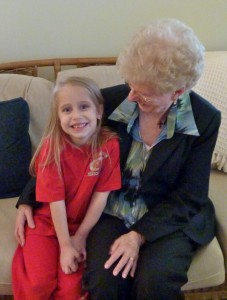 She taped some drinking straws to a plastic bowl and added a sign written in crayon. The sign read, "Money for the Poor," and the bowl was placed on her kitchen table. Bete put all the money she'd been given for her birthday into the bowl. Every dollar. Then she began asking others to help.
Whenever anyone came to her house, Bete showed them the bowl. She asked in a way that made people grateful she'd invited them to be part of her project.
For a month, Bete asked friends and relatives to help. Nobody turned her down. She motivated her aunt and uncle to have a corn hole tournament fundraiser at which she sold raffle tickets. When she lost a tooth, the little girl put a note under her pillow that read, "Dear Tooth Fairy: Please give $5 for the poor."
Bete's plastic bowl overflowed with coins and bills and even checks. By the end of the month, she had raised $453, which she donated to St. Mary Development Corporation, where her works providing homes for low-income seniors and working families.
Her family thought it might be one-time project, but after Bete learned about Ascension Parish's St. Vincent de Paul Society, she began collecting money again.
When asked why people should help those in need, Bete said, "God wants us to take care of each other, and if you don't give your money to the poor, you'll probably just buy something you don't need."
After Bete and her grandfather made a donation to St. Vincent de Paul, she was invited to one of their meetings and made an honorary member. The organization gave her a plaque that she proudly displays in her bedroom.
The first grader continues to be fascinated with different organizations that help the poor. After learning how Heifer International helps families by giving them livestock to improve their nutrition and generate income, she decided to raise $5,000 to donate an "ark" — two of each type of animal provided by the organization.
"It will take a long time to raise that much money," Bete admitted.
But no one in her family doubts she'll find a way to do it.