Longtime educator works with seminary exchange program
March 1, 2012
By Natalie Corzine Moore
Fran Holthaus never imagined retiring. As the director of Adult Basic and Literacy Education (ABLE) for Upper Valley Joint Vocation School in Piqua, she taught students trying to finish their high school diplomas and wrote grants for program funding.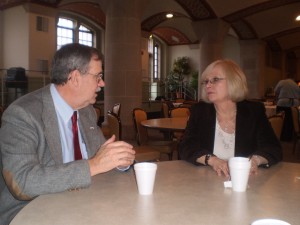 She loved teaching, but current economic realities forced her to make cuts in every area of her department, including her own job.
Holthaus didn't want to leave, but she soon realized the next cut had to involve her own position. After much prayer, she resigned. But that didn't last long.
Shortly after she retired, Father Benedict O'Cinnsealaigh, president/rector of the Athenaeum of Ohio/Mount St. Mary's Seminary, called Holthaus and asked her to teach English to visiting seminarians from Honduras. Holthaus became friends with Father O'Cinnsealaigh when he served as pastor of her parish, Holy Angels in Sidney.
Every year, Mount St. Mary's Seminary participates in an exchange program with the Seminary of Our Lady of Suyapa in Tegucigalpa, Honduras. Seminarians from Honduras travel to Cincinnati for several weeks at the beginning of the winter semester to learn about the differences and similarities in religious formation between the United States and their country. Because of her experience in adult education, Father O'Cinnsealaigh asked Holthaus to come out of retirement and teach English to the visiting seminarians to help break down the language barrier. Holthaus accepted.
That was six years ago. Now, every winter, Holthaus travels to Cincinnati and stays at Mount St. Mary's during the week. She wakes every morning at 5:30 a.m. (what she calls the biggest "challenge" of the job) and is fully immersed in life there. She eats her meals with the seminarians, attends Mass and prays with them daily.  She feels blessed to work with the faculty and administration and says coming back is "like homecoming every year."
This year, Santos Pablo Vasquez Avila and Carlos M. Cardona traveled to Cincinnati from Tegucigalpa. Both seminarians volunteered to participate in the program as a "pastoral exchange" between the two seminaries and to witness pastoral life in the United States. Both wanted to learn English here and to "witness seminary life elsewhere."
Cardona asked to participate in the program because he wanted to witness the ministry of American priests. He also wanted firsthand experience with parish life in the United States and to understand the work of priests and their relationships with their lay ministers and parish members. Cardona noted there is a definite age difference between seminarians at both schools. Here, the average seminarian starts his studies after receiving a college degree; in Honduras, seminarians are accepted straight out of high school. Also, seminarians here are ordained deacons early and continue their studies before being ordained as priests. In Honduras, they are ordained after their studies and then commit to pastoral work for six to 12 months before being ordained to the priesthood.
Vasquez noted the size difference between the seminaries. In Tegucigalpa, the seminarians come from all over the smaller country. There are approximately 150 seminarians. He compared it to a "small city" where every seminarian has an assigned daily job (cooking, laundry) that helps keep the "city" operating. At Mount St. Mary's, there are administrators and staff that focus on the operations, while seminarians here can remain devoted to their studies.
While here, Cardona and Vasquez met with friends who are parishioners from St. Michael in Ft. Loramie and St. Margaret of York in Loveland. They also traveled with local seminarians to the annual March for Life in Washington, D.C., and "were impressed by all the seminarians, priests and bishops in attendance," said Holthaus.  "They were surprised about Obama and his support of abortion.  In Honduras, abortion is illegal."
Both men are grateful for the chance to travel here because they want to "be bilingual, study the language firsthand, and break any barriers" between the two communities. They noted few seminarians here speak Spanish and urge them to come to Tegucigalpa to learn the language so they can "better serve the growing Hispanic community in Cincinnati."
As for her, Holthaus said "I really enjoyed my experience at the seminary this year.  My students were wonderful and I like teaching them because they work so hard.  I also enjoyed their conversations about their country and ours."