Fleeting peace as Baltimore pays final respects to Freddie Gray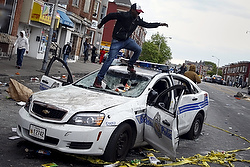 By Paul McMullen Catholic News Service
BALTIMORE — For four hours April 27, Freddie Gray Jr. was patiently and prayerfully memorialized.
That peace, however, was extremely fragile.
Gray, 25, died April 19, one week after being arrested on a weapons charge and sustaining a severe spinal cord injury in West Baltimore while in police custody. Thirty-six hours after a downtown protest over his death turned violent, a funeral was held for Gray a few miles to the northwest, at New Shiloh Baptist Church.
An hourlong, open-casket wake preceded the 11 a.m. service, which lasted more than two and a half hours.
Midway through the funeral, the Baltimore Police Department/Criminal Intelligence Unit reported that it had received credible information that gangs "have entered in a partnership to 'take out' law enforcement officers."
The threat of a new wave of violence led some Baltimore businesses to close early April 27, as news outlets broadcast helicopter images of youths hurling bottles and debris at law enforcement officers near Mondawmin Mall, just north of New Shiloh Baptist. The six Baltimore police officers involved in the Gray's arrest were suspended with pay, pending the outcome of an investigation into the circumstances of his death.
Meanwhile, Baltimore Archbishop William E. Lori called for prayer and a peaceful community response.
"Freddie's death is especially tragic because of the circumstances that led to it," the archbishop said in an April 27 statement, "and the pain of his loved ones is all the more acute because of what his death represents for them, but also for so many others in our community who may not have known Freddie.
"For Freddie's death symbolizes the rawest of open wounds and the only salve that will heal them is that of the truth; truth about what happened to Freddie, truth about the sin of racism that is still present in our community, and truth about our collective responsibility to deal with those issues that undermine the human dignity of every citizen."
Baltimoreans spent late afternoon and evening hours watching the violence spread on television as rioters burned civilian and law enforcement automobiles, looted stores and ran into Mondawmin Mall to empty its shelves. Amid reports of multiple injuries to law enforcement officers, Gov. Lawrence J. Hogan declared a state of emergency and activated the Maryland National Guard.
While the Rev. Frank M. Reid, pastor of Bethel A.M.E. Church told mourners at the funeral that "we are not here for a rally, but to glorify God," there were words of protest from the pulpit and silent political statements made from the pews.
Relatives of Eric Gardner, Amadou Diallo and other victims of police violence from the group Families United for Justice were in attendance, along with White House representative Broderick Johnson, Rep. Elijah Cummings, D-Maryland, and civil rights activist Dick Gregory.
The Rev. Jesse Jackson, who provided the closing words of reflection, said, "The central theme of Easter is, you don't have to be guilty to be crucified."
During the wake the choir sang "I'll Fly Away" and large screens alternated the messages, "Black Lives Matter" and "& All Lives Matter."
The eulogy was given by the Rev. Jamal Harrison Bryant, of Empowerment Temple A.M.E. Church, who connected the miracle of Lazarus in Luke 7:11-15 to the death of Gray, an asthmatic who, as the Baltimore Sun reported, was sickened by lead paint as a child.
"Luke tells us, the young man (Lazarus) died," Bryant said. "Luke never told us how. … Was it asthma? Lead paint? Excessive force? Not wearing a seat belt? All I know is, he (Gray) died."
Bryant challenged the community.
"It is not the time for us," he said, "to be on the corner drinking malt liquor, or playing the lottery or going to the Horseshoe Casino."
While Gray had a lengthy police record, Cummings contrasted his obituary, which recounted his being in the youth choir and a junior usher at Royal Light Missionary Baptist Church, with the coverage of his death, saying, "Did anybody recognize Freddie Gray when he was alive?"
Billy Murphy, an attorney representing the Gray family, asked "the press not to focus their attention on the one-half of a percent that did not know how to act."
It was another reference to the events of April 25, when thousands of protesters, such as Ralph Moore, of St. Ann Parish in Baltimore, peacefully marched to City Hall.
Before the evening was done, however, several downtown businesses had been vandalized and looted and police had arrested 35 people.
Posted April 28, 2015