FOCUS ministry coming to Wright State University this fall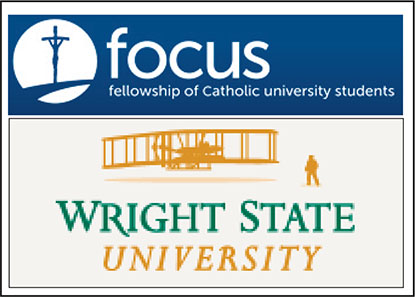 By John Stegeman
The Catholic Telegraph 
The Fellowship of Catholic University Students, better known as FOCUS, is coming to Wright State University this fall.
FOCUS is a national outreach that aims to meet college students where they are, inviting them into a growing relationship with Jesus and the Catholic faith. The Wright State contingent's arrival will mark the first time FOCUS, founded in 1998, has served in the Archdiocese of Cincinnati. Previously, the only Ohio campus with a FOCUS team was Franciscan University in Steubenville.
Joe Hensler, vice president for collegiate outreach for FOCUS, said a combination of existing relationships helped bring the Denver-based organization to Wright State.
"It was a combination of factors but more than anything else it was existing relationships throughout the church that made it happen," Hensler said. "Archbishop (Dennis M.) Schnurr had welcomed FOCUS into the Diocese of Duluth when he was the bishop there. When he came to Cincinnati, he expressed interest in bringing FOCUS to serve in the AOC as well. After that it was just a question of finding the right school for us to make that entrance."
Wright State, a school of 19,000 students with a high Catholic population, already had a thriving Catholic Campus Ministry in place. Run by Father Ed Burns, who knows Hensler personally and even baptized one of his children, the Wright State Newman Center had a staff of just two full time members and one part time musician. A student leadership team of 10-15 students, varying in size yearly, made up the volunteer staff. FOCUS will be bringing a four-person team to WSU, two women and two men. The two women should arrive this fall with the men following in the spring.
FOCUS missionaries work with existing Catholic campus ministry, coming to a school only by invitation of the local bishop and local ministry. While much Catholic ministry on campuses nationwide takes place at or around Newman Centers (a popular name for any Catholic campus ministry center), FOCUS missionaries will spend their time meeting the students wherever they can.
"We've been described as the arms and legs of campus ministry," Hensler said. "Our missionaries' mission is to go out into the campus population, not just to hang around the Newman Center, but to go out and meet students where they are."
Sean Ater, director of the archdiocesan Office of the New Evangelization, said FOCUS' work is important, and complements the work already being done.
"Newman Centers are centers, they're places where ministry happens," Ater said. "They're operating out of a campus ministry model almost like a parish might operate in a neighborhood… What FOCUS does is work with Newman Centers, they don't replace what Newman Centers do."
Father Burns, who recently attended a FOCUS training in Florida, said his campus ministry will now be able to reach more people.
"In a sense, they become an extension of our staff," he said. "FOCUS really exists to work in cooperation with the campus ministry that's already there. They're very careful these days. They don't want to counter program us."
FOCUS missionaries undergo intensive missionary training. The residential part of the training is a five-week session where they are formed intellectually and spiritually for the task. After the five weeks, the prepare for life on their assigned campus. After their first year, there is another five-week training session. All FOCUS missionaries make a two year commitment to the work, but Hensler said many continue for longer.
Often the same missionaries will remain on a campus for two years, but sometimes they are moved around. All these decisions are made in conjunction with the local Catholic campus ministry.
There is no contract between FOCUS and the schools the serve, but rather a letter of understanding that includes a two-year commitment.
"Our experience has been once that relationship is established and becomes fruitful, that renewal of the arrangement becomes almost assumed," Hensler said. "We've been around for 15 years and the schools that we originally served at, we're still serving at."
Hensler said of the 83 schools with FOCUS teams last year, 80 are returning to campus.
The addition of Wright State comes as part of an expansion that will place FOCUS missionaries in 100 schools across the nation.
"We've wanted to come in and serve this archdiocese for a long time," Hensler said. "We were just always looking for that right first step. No pun intended, Wright State really turned out to be the place that made sense for everybody.
"We're incredibly grateful for the opportunity to serve and for the invitation from the archbishop and Father Ed," he added. "We are prayerful and hopeful that this will be the start of a very productive and fruitful relationship for the archdiocese and for us."
This story, part of an eight-page College Section, originally appeared in the August 2014 print edition ofThe Catholic Telegraph.