Supporters of traditional marriage gather outside courthouse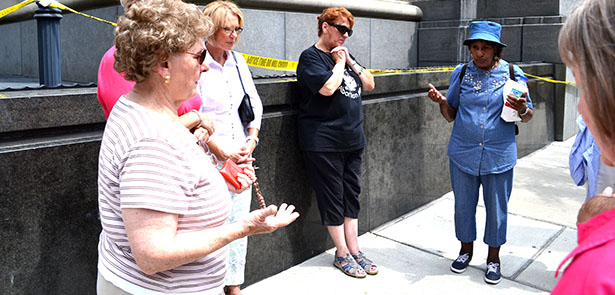 By John Stegeman
The Catholic Telegraph 
Dwarfed in size and volume by an opposing rally less than a block away, roughly 30 people gathered to pray for the Sixth Circuit court to uphold traditional marriage outside the Potter Stewart Courthouse Wednesday in downtown Cincinnati.
The Sixth Circuit Court of Appeals, based in Cincinnati, began a review of challenges to laws upholding traditional marriage in four states — Ohio, Kentucky, Michigan and Tennessee. The court will review all the cases together. No decision is expected today.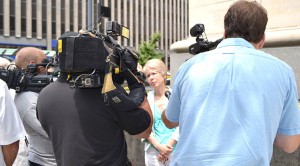 Those gathered to support traditional marriage prayed for God to guide the judges of the Sixth Circuit. More than once the assembly prayed the rosary and several couples in attendance took time apart to pray as a duo. One non-Catholic pastor spent his time in individual prayer seated on the sidewalk facing the courthouse.
Judy Bonhaus, a Catholic, felt it was important to be present to support the next generation.
"I have four children and 10 grandchildren, one in utero," Bonhaus said. "I feel very strongly about the sanctity of marriage and the sanctity of human life and the importance of the family as the basic unit of society."
Catholics weren't the only Christians in attendance. Presbyterians, Baptists and other denominations were also present.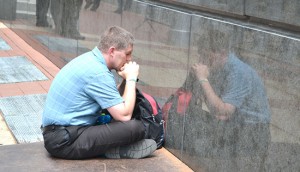 Toni Benford, of Evangelical Community Church, disputed the notion that supporters of traditional marriage are "hate-filled" or wish ill upon those with same-sex attraction.
"We don't wish them any animosity or any harm whatsoever," she said. "I'm glad to be here in force with this small group that is here lifting our hearts up in fellowship and love."
Sue Crosset, also from Evangelical Community Church, acknowledged the prayer group was outnumbered by the pro same-sex marriage rally over on Fountain Square. She noted that crowd size and momentum of a movement aren't where Christians place their trust.
"(We trust) the power and the justice and the mercy and the love of a God we know is extremely stronger than anything that can be set forth by wrong thinking," she said. "We call for the healing of those who are distorted or misunderstand or will bring to society things that should not be brought."
Lisi Renoylds, a mother of three from Dayton, brought her children and a niece to join the prayer.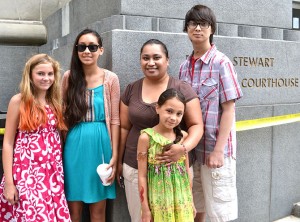 "I'm proud that as a homeschool mom I'm able to bring my children here because you can't learn everything out of books," she said. Once they set foot in the streets and we passed the opposition, their eyes and their ears are perking up… Regardless of how the judges vote, we still stand in God's word, which is infallible."
The pro same-sex marriage rally included a march around the block that came past the prayer group. As they marched, it was clear the pro traditional marriage crowd was vastly outnumbered. Still, that didn't deter the spirit of the event.
"Even though there aren't that many people here physically, we have many, many prayer warriors," Bonhaus said. "The word has gone out to pray. Not only in the Catholic church but all other churches."
Greg Westwood, also a Catholic, said having a small group is no big deal before the power of God.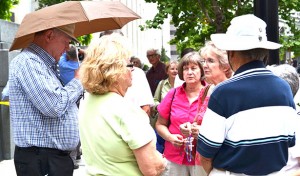 "Christ started out with 12," he said. "One betrayed him, one survived and the other 10 were martyred. There is precedent for minorities willing to do it to accomplish great things."
If supporters of traditional marriage are a minority, it hasn't been that way for long. A Gallup poll in May of this year showed 55 percent of Americans support same sex marriage. The percentage of Americans supporting same-sex marriage didn't reach 50 percent until 2011. Further, that poll didn't ask what people believed about marriage, but only whether same sex unions should be legal.
"Marriage has been under attack for decades," Westwood said. "Largely from heterosexuals and people who don't know what marriage is and don't understand … that marriage is ordained by God.
"I don't think what we can do here today will really make a difference in the long run except to pray," Westwood added. "To pray the judges will judge according to the Constitution and Natural Law and the statutes that were enacted."
Phil Burress, president of Citizens for Community Values, has been a leading activist in the fight to uphold traditional marriage. Signs in the pro same-sex marriage march included slogans about the "right side of history" but Burress cautioned that the battle isn't over.
"When people say this is inevitable, it is quite the contrary," Burress said. "The vast majority of Americans know that marriage is between one man and one woman. It goes way beyond the faith community."
Posted Aug. 6, 2014