Food Creates Opportunities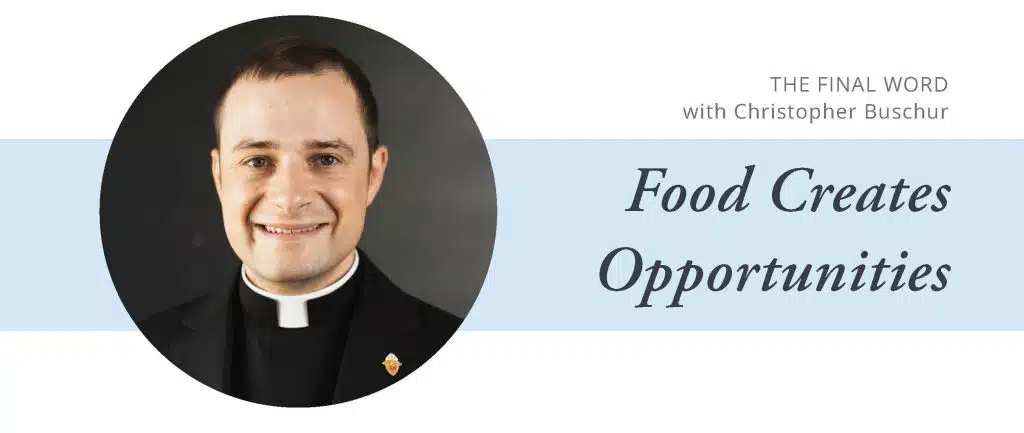 Many consider me an adventurous eater. When I find something unique or out of the ordinary on a menu, I am always curious to try it. And while I didn't cook much growing up, I stepped out of my comfort zone in college and seminary to do it more. As friends, co-workers and everyone I've lived with will attest, I gravitate toward trying the weird or unconventional. Make no mistake, I have no delusions of being a maestro in the kitchen, but cooking an interesting new dish and seeing it turn out well gives me great satisfaction!
When relating food to our faith, the first reaction might be negative. After all, gluttony is one of the seven deadly sins and fasting is one way the Church traditionally encouraged Christians to grow in holiness—and rightfully so. Yet the Church's liturgical life ebbs and flows: with all the times of fasting and penance throughout the year, there are also times to rejoice and celebrate God's blessings. And the Church recognizes that food is, indeed, a blessing—remember, the Church's days of celebration are known as feast days!
Food creates opportunities to encounter and build relationships with others. At big family get-togethers like Thanksgiving, a family meal highlights the celebration. A first date is, more often than not, dinner at a nice restaurant, and many business deals are struck over a meal.
Every time we attend Mass, we experience the most fulfilling encounter imaginable. We gather as a community of believers and have the chance to receive Jesus, who comes to us under the guise of bread and wine in the Eucharist. We encounter Jesus in a meal.
I am reminded of the Gospel for the Third Sunday of Easter, in which two disciples encounter Jesus while traveling to Emmaus. Despite knowing Jesus, they do not initially recognize Him. It is only when they share a meal with Him that they are changed: their eyes are opened and they can recognize Him. In the same way, we recognize Jesus in the breaking of the bread and give thanks for this great gift God gives us. After all, the term Eucharist literally means "thanksgiving."
Our encounter with Jesus should change us as well. As we give thanks for all the Lord gives us, be it receiving Jesus in Holy Communion or simply a nice family meal, we should feel challenged to go outside of ourselves. When we give thanks for blessings received, do we remember those who go without? Indeed, the blessings received are not our own, but gifts from God. Is this reflected in our generosity? Do we strive to promote the common good so no one experiences the pangs of hunger?
Most important of all, our reception of Jesus in the Eucharist calls us to bring Jesus to others. The command "go out to all the world and tell the Good News" is at the Gospel's core. Do we live in an attitude of thanksgiving that attracts others to Jesus? Spending time reflecting and praying over this one question, I believe, makes substantial progress in our growth as Christians who transform the world.
Christopher Buschur is a seminarian for the Archdiocese of Cincinnati and former intern at The Catholic Telegraph. He completed his pastoral internship year in May and returns to Mount St. Mary's Seminary this fall for his priesthood formation's final stages. His home parish is St. Mary, Urbana.
This article appeared in the June 2023 edition of The Catholic Telegraph Magazine. For your complimentary subscription, click here.