Forming students to be servants begins in Catholic School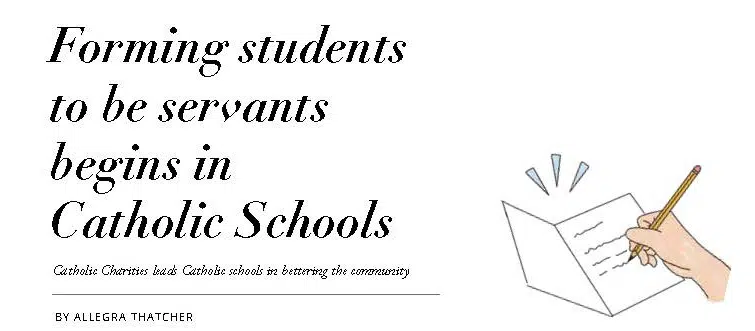 If you looked in St. Gertrude School's windows on their service day last year, you would have seen elementary students bustling about the room, creating welcome cards to Afghan refugees. The reason? A partnership between Catholic schools and Catholic Charities of Southwestern Ohio (CCSWO).
Mary Anne Bressler is the Parish and Community Engagement Coordinator at CCSWO who, with her team, gives themed presentations in Catholic schools to raise students' awareness of peoples' needs in Ohio. During the 2021-22 school year, CCSWO staff met with students at Mercy McCauley High School, St. Ursula Academy, McNicholas High School and St. Gertrude School to share the realities of immigration and what students can do to help.
A CCSWO success story for schools' involvement is the Su Casa Hispanic Center in Cincinnati, which is now served by summer interns who experienced community service themselves early in their lives.
"You see the full circle when people are given the opportunity," said Su Casa Director Giovanna Alvarez. "Through relationships and collaborations with different Catholic schools and universities, the center provides all kinds of resources for the Latino and immigrant communities of Cincinnati. Over 5,000 people receive yearly assistance, from case management, to family reunification, health promotion services and educational services."
St. Xavier High School students volunteer for Su Casa's tutoring services, St. Ursula Academy youth provide childcare and both Moeller and Mount Notre Dame High Schools' students also assist the center. Online Spanish service learning courses and tutoring are provided through a partnership with Miami University, Xavier University and the University of Cincinnati.
"That's the formation the [students] have received at a Catholic school. To give back, to support this community," Alvarez said. "There are other people who have received these services and now they're working here as part of the team at Catholic Charities and as staff at Catholic schools."
A Su Casa teacher shared that the Latino students from the 2020 remote summer camp, learned advanced remote learning and tech skills at Su Casa. They then assisted their American classmates during the school year.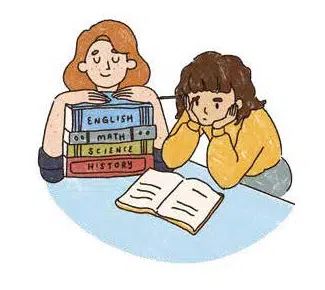 What starts as learning in the classroom must be actively applied, said Teresa Davis, theology teacher and Community Engagement Director at McNicholas High School. She spoke highly of CCSWO's support for leading her students in community service.
"The resources, the personal engagement, helps shore up the foundation of learning of Catholic high schools and it really does flesh out book learning and lets the kids see that it's applicable stuff," she said.
Davis said her students regularly volunteer at the St. Vincent de Paul Pantry, Guardian Angels and Mt. Washington Cemetery and tutor at Sands Montessori and Mt. Washington Elementary. Ten hours of service are mandatory, but she emphasized that, from day one of freshman year, students are taught "it's about compassion, not about compulsion."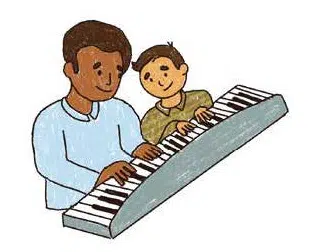 Immigration lawyers were among those who presented to McNicholas students this year. "I teach Comparative World Religions and we talk about immigration and refugees," said Davis. "But these lawyers came in and fleshed it out with human stories that made the learning more engaging."
Bressler conversed with Social Justice and Comparative World Religions classes about immigration statistics, and ways students could engage with Su Casa, charity work and more.
"They have so many threads out in the community that the kids were interested in," said Davis. "It's one thing to hand a bag of food to someone, but we teach the children how to engage with people. … We emphasize that these are real people like you, they just have a different set of problems. Catholic Charities really knows how to get to the heart of that."
"We do as Jesus did. He went to the home of these people and said, 'I'll heal you, but I'll hang out with you too, and get to know you because you count,'" said Davis.
To encourage service, Davis said, "Give them some agency."
Davis shared that a senior initiated a school supply drive, determining the supplies needed and where to take it, then organizing it all himself. The result? The school delivered 10 boxes of supplies to local elementary schools.
Another senior, Chloe Jones, who won the Society of St. Vincent de Paul's inaugural Blessed Frassati Scholarship Award, was touched by the difficulties of those reentering society after time in prison. She decided to pursue a media advocacy minor with her marketing major at Kent State University.
Davis has plenty of suggestions for those wanting to get involved.
"I do believe teenagers want to be engaged in community service, but they just don't know how, and there's got to be an adult somewhere in their proximity that can lead them."
For the 2022-23 school year, Bressler's CCSWO plan invites schools to creatively participate in service through four categories of involvement: Learn, Pray, Share and Give.
"Our hope is that we'll get schools who really kind of dive into this in a big way, and if they participate in each of the four categories, then we will call them Catholic Charities Champions."
This article appeared in the August 2022 edition of The Catholic Telegraph Magazine. For your complimentary subscription, click here.