Forming young Missionary Disciples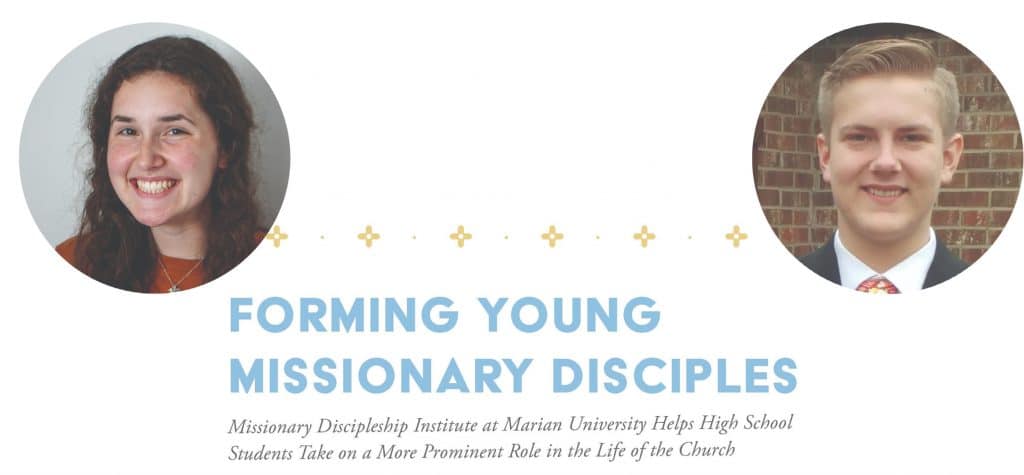 by Bonny Van
The Missionary Discipleship Institute (MDI) at Marian University in Indianapolis, IN, began in 2017. The one week summer program "equips high school leaders, from rising sophomores to rising seniors, to become missionary disciples in their communities through the Church," said Patrick Verhiley, Director of MDI.
"[MDI] works to expand the Catholic faith by making room at the table for high school youth to take on a more prominent role in the life of the Church, especially in the work of evangelization," said Verhiley. "The Mission Plans are the tangible results of the MDI week. They are active and intentional plans discerned with the students' parish leaders and the help of the MDI mentors, faculty and staff to address a need in the community. We work with them to take an idea and turn it into a plan."
Some of those plans have included young women's retreats, revamping Children's Liturgy of the Word, instituting youth councils and a blog for Catholic teens. Discovering new ways to evangelize and involve youth is much needed, according to Aubrey Major, a junior at Marian University and an MDI mentor. Major, a Dayton graduate of Bishop Fenwick High School in Middletown, was very active in campus ministry in high school, where she led retreats and service opportunities. She was also active at St. Mary of the Assumption Church in Springboro.
"I was always eager to find a good Catholic community in all of these places, and while I did find it many times, I also saw a disconnect in the ways the Church reaches young students truly where they're at," said Major. "Coming to Marian University gave me a community of college students who felt the same way. I have learned so much there about what needs to change in the way the Church guides personal relationships with God, especially for teenagers, and what we can start doing about it as college mentors."
Jonathan Kalis, a sophomore at Carroll High School in Dayton and parishioner at Ascension Church in Kettering, was an MDI participant this past summer thanks to the encouragement of his youth minister. "MDI has been one of the greatest assets to my faith," said Kalis. "One reason was seeing so many young Christians who were so willing to share their faith and proclaim it. Another is that it taught me so much about how I should not be afraid to preach anywhere to anyone because I am not alone and will always have people there to support me."
"Mentoring is absolutely essential for walking through life no matter what, and even more so as a Christian," said Major. "We are not meant to walk alone, and the best community does not stop at our close circle of friends our age. Relying on mentors and being open to guidance is something that most people struggle with, myself included."
The week-long event includes daily Mass, confession, leadership and community development, as well as vocational discernment through mentorship and keynote speakers. "One of my favorite parts of the Institute was hearing the students share the ways they encountered the Lord," said Major. "It brought tears and laughter all at once in students, all signs of genuine encounters in prayer. The community between students was really special, but the communion between students and the Lord was even more incredible."
According to Verhiley, most student participants are nominated by an adult minister from their church. Nominations are accepted from October to February. In 2021, 15-percent of MDI students and 40-percent of MDI mentors were from the Archdiocese of Cincinnati. Learn more at missionarydisciplesinstitute.com.
This article appeared in the October edition of The Catholic Telegraph Magazine. For your complimentary subscription, click here.