Fortnight for Freedom is underway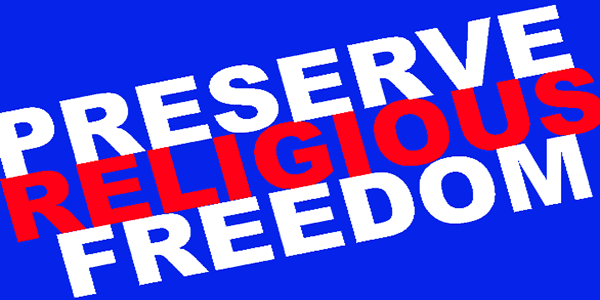 Staff Report
"We are Catholics. We are Americans. We are proud to be both, grateful for the gift of faith which is ours as Christian disciples, and grateful for the gift of liberty which is ours as American citizens. To be Catholic and American should mean not having to choose one over the other."
With those words the bishops of the United States began the document "Our First, Most Cherished Liberty," a document published in 2012 as both a defense of religious freedom and a call to action for all Catholics.
In 2013, the August 1 deadline concerning the contraceptive mandate looms large, threats to religious freedom continue and the culture of secularism — called the culture of death by Blessed John Paul II — continues to grow. With that in mind the bishops called for a second Fortnight for Freedom, which began Friday, June 21, 2013.
The USCCB has published the website fortnight4freedom.org with prayer resources and a collection of background information, events and news concerning religious liberty.
In the archdiocese of Cincinnati, there are several events taking place that Catholics can participate in to pray and witness for religious freedom.
Saint Maximilian Kolbe opens Fortnight activities with a Mass June 21 at 7:30 p.m., followed by Exposition until midnight with Night Prayer and Benediction at 11:45 p.m.
St. Charles Borromeo in Kettering will host a special Holy Hour tonight with music beginning at 7 p.m. After that Holy Hour there will be a concert concert by Kevin Heider.
"Contraception: Why Not," a talk by Dr. Janet Smith, will take place at  Queen of Peace in Hamilton on June 23. There will also be a pot luck supper. The event is for adults and high-school aged youth with parents and begins at 5:30 p.m.
Immaculate Heart of Mary in Anderson will have a Holy Hour June 23 and June 30. Both Holy Hours begin at 7: 30 p.m.
Our Lady Of Lourdes will have Eucharistic Adoration for the intentions of religious freedom on July 1. After the 8:30 a.m. Mass until 4:30 p.m. that day the Blessed Sacrament will be exposed for prayer and adoration.
Finally, St. Antoninus in Covedale and St. Maximilian Kolbe will have a Mass on the Fourth of July. St. Antoninus' Mass is at 8 a.m. and St. Max's Mass is at 9 a.m.
If you know of any other Fortnight for Freedom events taking place in the Archdiocese of Cincinnati, send us a news tip.