Franciscan focuses on education, community building in Jamaica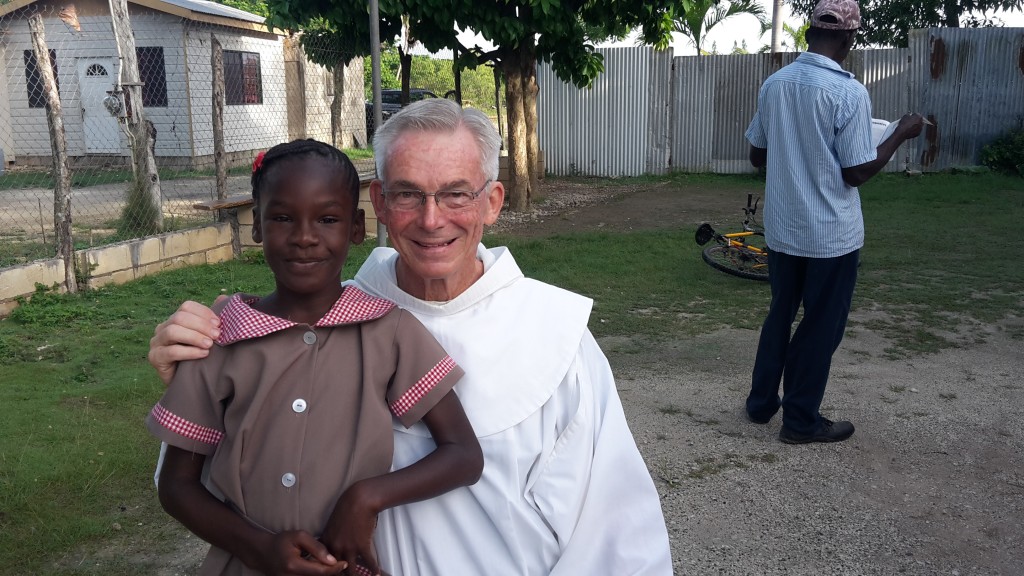 As a child, Franciscan Father Jim Bok said he "never" considered become a missionary. "Like many little boys back then, I used to 'play priest' with Necco Wafers. We had mission carnivals at school to raise money, but being a missionary was never in my hopes and dreams. I thought I wanted to be a lawyer."
As so often happens, though, God had other plans.
Originally from Reading, Father Bok attended the then Our Lady of the Sacred Heart School, and went on to Moeller High School, graduating in 1965. His two older brothers attended Roger Bacon, and his sister our Lady of Angels. When he was just six years old, his brother, John, joined the Franciscans.
"Over the next nine years (his seminary years) we visited him three times a year which I suppose had a quiet impact on me," Father Bok said. "John never pressed me about being a Franciscan. "Junior year at Moeller I had my guidance counselor meeting looking to the future. That is when I decided to give the Franciscans a try. A little aside, when my brother was ordained, he was sent to RB as an instructor. He used to come home on Sundays, usually with a couple other friar friends) for dinner. That would probably be the time that I really got to know him. Those visits and the guys he brought home certainly had a big impact on me."
While missionary service was not on the young man's radar when he joined the friars, God was preparing him all along through a variety of experiences. During his deacon year, Father Bok spent four months in Mexico, one month in an intensive language course, and three more in a Franciscan parish. It was a "transformative time" for him, Father Bok recalled. "For the first time in my life I was a minority person — different color, different culture and different language (hardly fluent in Spanish). I felt' what it was like to be on the outside, so to speak. And I witnessed, for the first time, some pretty awful poverty. That experience stuck with me until today."
After ordination, Father Bok was sent to Roger Bacon as an instructor, with the intention of going to law school at night. "God had other plans, I suppose," he said, because he ended up pursuing graduate studies in education at Xavier University instead. A stint as principal at Roger Bacon followed, with missionary service, "remaining the farthest thing from my mind," noted Father Bok.
When his time at the high school ended, Father Bok was assigned to the provincial Development Office as director. His "mission sensitivity" deepened in this role, he worked to raise money for various Franciscan ministries, the missions among them. He also began to travel more, witnesses the work of the friars amid many cultures.
In 1999, the Franciscans' provincial chapter decided to travel to Montego Bay, Jamaica. "I was elected to the provincial council at that chapter, " Father Bok explained. "I became more deeply involved in the works and lives of the friars, including the missionaries. Responsibilities took me to Jamaica a few times. In 2008, we knew that three of the six friars were leaving the Jamaican mission and no replacements were forthcoming. At the May Chapter of 2008, something happened to me…hard to explain…I suppose it was the Holy Spirit. The day after the chapter, I went to the office of our newly elected provincial and told him I wanted to go to Jamaica. He was more surprised than I, I think. In September, I packed my bags and off I went."
Father Bok currently serves as pastor of Mary Gate of Heaven in Negril, and St. Luke in Little London. The needs of the Jamaican people are many, he said. "Just having the basic survival needs is a day to day effort," he explained. "Illiteracy is widespread. High on my list of needs is education. While education is 'free,' many people cannot afford the cost of uniforms, taxi, school fees, and lunch. Unemployment is also widespread, and for many who work, the wages are absolutely unjust."
In addition to his pastoral responsibilities, Father Bok is involved in two other ministries: St. Anthony's Kitchen and the Get Kids to School Program. St. Anthony's Kitchen was founded in April 2010 to serve the hungry poor in Negril. The Kitchen is open five days a week, serving breakfast to about 60 children each morning as they head off to school, and an average of 110 lunches each day to adults. The staff consists of several paid employees volunteers from the local community, and many visiting volunteers. Through the Kitchen, people receive assistance with medical needs — hospital, clinic and pharmacy.
Get Kids to School began in September 2011. Responding to a large number of children not regularly attending school, Mary Gate of Heaven and the friars started collaborating with the children's parents and the Rotary Club of Negril to change that. Grants and donations from benefactors provide the funds for 100 children to get to school every day, along with money for taxi fare, uniforms, and school supplies.
The rewards of his ministry are many, said Father Bok. "I am touched by the many comments of folks who are grateful for knowing the Franciscans and working with us. The gratitude of many moms whose children are being assisted and encouraged is quite evident. Regulars at St. Anthony's Kitchen have established a kind of community, enjoying each other's company and the peacefulness of the place."
"Through the Get Kids to School program, we can have a profound impact on social conditions of folks here through education," he added. "Through GKTS, we have established a wonderful and caring relationship with many mothers. They have a place to come for advice or assistance. We have been able to secure work for some of them, giving them an opportunity to enjoy the dignity of work and its results."
None of this would be possible without the generosity of others, Father Bok pointed out. "Without benefactors we would do very little here. Thanks to them, we are able to touch some lives and help transform values for living. We are most grateful for their involvement in our work."
For more information, email Father Bok at [email protected], or visit www.mghcatholic.com