Franciscans initiate Peace Prayer Challenge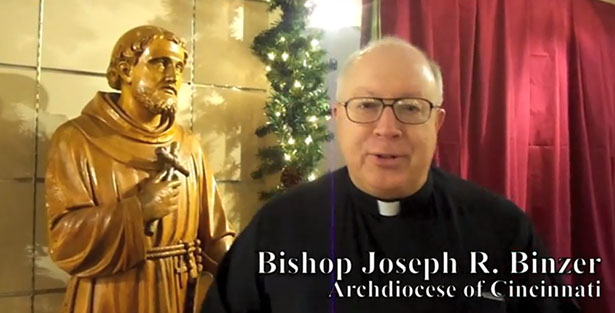 Staff Report
Franciscan Friars of the Archdiocese of Cincinnati continue to staff their ministry of presence at a storefront in Cincinnati's Northgate Mall and in conjunction with that effort, they're building momentum for a new online viral challenge.
Dubbed the Peace Prayer Challenge, the act is simple. The Friars are encouraging the whole world to pray the well-known peace prayer that begins, "Lord, make me an instrument of your peace."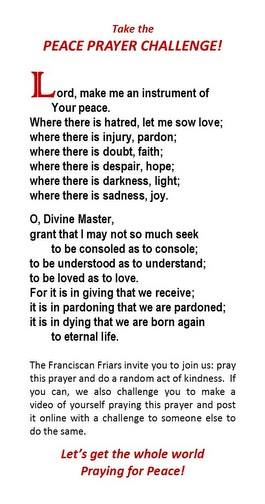 Simply saying the prayer is one way to participate, but the Franciscans also invite challengers to commit a random act of kindness and film themselves saying the prayer. Challengers can then upload the video to social media and challenge others to say the prayer.
The Peace Prayer Challenge was inspired in part by other viral challenges, such as the ALS Ice Bucket Challenge, that made the rounds online in the past year.
Auxiliary Bishop of the Archdiocese of Cincinnati Joseph R. Binzer, who joined the Friars at their Northgate location on Black Friday, has taken the challenge and in his video (seen below), challenged Sean Ater, director of the archdiocese's Office of the New Evangelization.
"This is really a perfect prayer for the Advent season because during Advent we anticipate what we are going to receive," Bishop Binzer said in the video, which was shared on the Franciscan Friars of St. John the Baptist Province Facebook page. "That's the opportunity to praise and worship Jesus Christ, the savior of the world."
John Stegeman, new media editor for The Catholic Telegraph, also took the challenge to pray for peace (video below), challenging Archdiocese of Cincinnati Catholic Social Action Director Tony Stieritz, NET Ministries Staff Ryan and Catherine Lopez, and the NET Missionaries serving within the archdiocese.
The Friars ministry at Northgate Mall continues through Dec. 23. The storefront is located in the Macy's corridor of the mall. The hours are 6-9 p.m. weekdays, 10 a.m.-9 p.m. Saturdays and Noon-6 p.m. on Sundays.
Watch Bishop Binzer take the challenge here.

Watch CT New Media Editor John Stegeman take the challenge here.

Posted Dec. 12, 2014