Friday Photo: Meet *Pope Francis* at local parish festival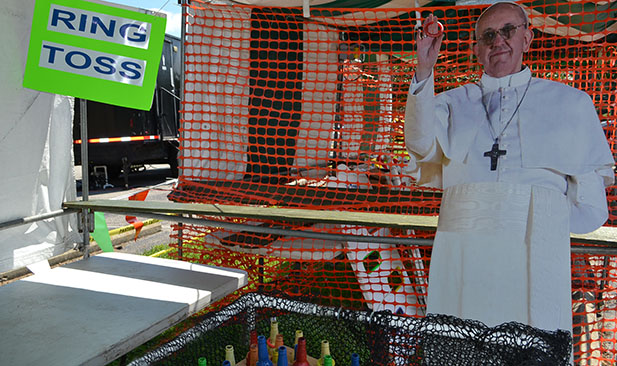 Staff Report
*Clearly not actually Pope Francis
The work week has been nearly put to bed and visions of weekend fun are dancing through your head. What better way to celebrate the weekend than supporting a parish festival and snapping a selfie with the pope — or at least a life-size cardboard cutout of the pope.
The photo above shows the pontiff's facsimile working the ring toss booth in preparation of tonight's festival at Holy Trinity parish in Norwood. Pope Francis' cutout (and for Reds fans one of Brandon Phillips) will both make appearances at the festival which runs all weekend, beginning at 6 p.m. tonight. Find Pope Francis at the major award booth.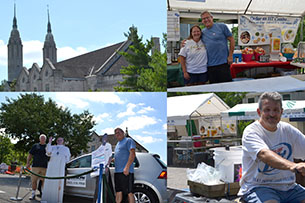 Holy Trinity may have a cardboard cutout of the Holy Father, but they aren't the only parish making merry this weekend. There's two other festivals in the Cincinnati area, one in McCartyville and one in West Chester. If that's not enough, there's Pig Festival in Bethel on Saturday. Want more information? Check out our FESTIVAL GUIDE for a complete listing of these and all the festivals remaining this summer.
At all six festival events in the archdiocese this weekend, volunteers and parish staff are hard at work to ensure a fun, safe, affordable time for families to enjoy. Be sure to patronize a parish festival this weekend, and thank the people working the booths.
Previous Friday Photos
Food for All kickoff
Behind the Scenes on Food for All
Moeller student takes in Germany
That's not a mitre Holy Father
A taste of glory
Welcome to Friday Photo. A post where The Catholic Telegraph staff select an image that shows the vibrant life of the faith community in the Archdiocese of Cincinnati, and around the world. To submit a photo for consideration, email John Stegeman with "Friday Photo" in the subject line.
Posted August 7, 2015