Make all things new: Dayton chapel to reopen after renovations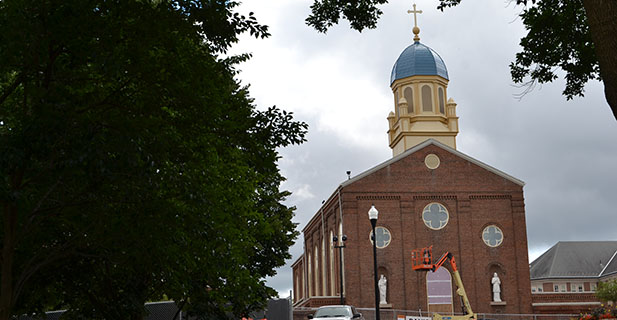 By John Stegeman
The Catholic Telegraph
When the University of Dayton assumed its present identity in 1920, the Chapel of the Immaculate Conception was more than 50 years old. Just shy of a century later, the chapel that has long served as a spiritual center for students is scheduled to reopen to much fanfare.
Closed in July of last year to begin $12 million in renovations, the chapel will reopen with a dedication Mass by Auxiliary Bishop of Cincinnati Joseph R. Binzer on Aug. 16.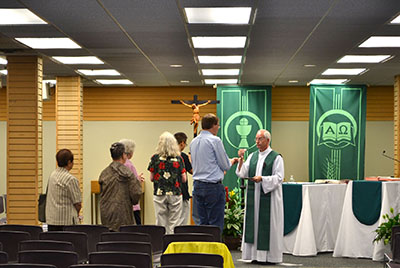 While the exterior of the chapel remained largely unchanged, save for some additions, the interior was given an overhaul. Some parts of the building, such as the HVAC systems, were in need of repair and the work needed to fix that opened the door to do more.
"The main impetus was the fact that there were lots of infrastructure things that needed to be done," said Father Jim Fitz, rector of the University of Datyon. "The second thing was, with the Second Vatican Council, there had been a partial renovation to fit the Vatican II liturgy, but it really wasn't integrated well into the chapel."
The mismatch of identities, historic and new, was most clear in two facets. Black plastic chairs long ago replaced the pews, and they faced an elevated wooden pulpit with ornate carvings. Under the new look, things flow together.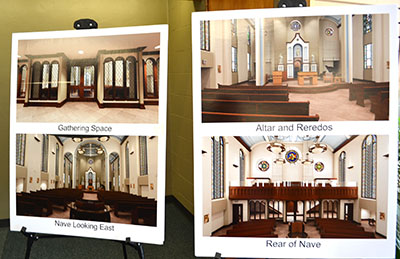 The old pulpit is gone, but recycled for other uses within the chapel, and the chairs have been replaced with curved wooden pews with kneelers. A Eucharistic reservation chapel has been added behind the reredos, which itself has been refurbished. A permanent baptismal font, built with the pulpit's carvings, has been added to the front of the church. A reconciliation room replaces the old confession spaces and will allow face-to-face or behind screen confession. Three new devotional spaces have been constructed and the chapel now has restrooms for the first time in its history. Other changes involve adding a gathering space, an office, new stained glass windows, restoration of old stained glass windows and handicapped accessibility throughout the chapel.
Father Fitz said student reaction has been generally positive and that the chapel changes should enhance the worship experience.
"It will provide us an opportunity to do liturgy well," he said. "We'll be able to do things we weren't able to before like Easter Vigil and baptism. We did them, but there's something about a permanent, well-built baptismal font and a black garden pond you bring in temporarily for it. I think it will provide (students) some really good spaces for private prayer, and our students like to do that."
Elaine Laux, former president of UD's Student Government Association, will be a senior this fall. She said despite some naysayers, most students were happy to see the iconic chapel get a facelift.
"I think most people were excited to see the chapel was getting a makeover," she said. "I heard a few students sort of pushing back on campus ministry… but it kind of disappeared after a while, that opposition voice. I think overall the general consensus is people are really happy to see the chapel get a makeover and were excited and relieved to see it didn't change too much."
Editor's Note: The following portion of the story appears exclusively online.
Since the chapel's closure last July, student have attended the usual residence hall Masses, while Sunday and noon daily Mass took place in the Chaminade Chapel, a room in the basement of Chaminade Hall converted to be used for Mass. Nearby Holy Angels Catholic Church has also been utilized by students for Mass.
Laux said not having the chapel available has been unfortunate in a way, but she expressed high hopes for the work that was done.
"The chapel for me my freshman year, was such a special part," she said. "I didn't get confirmed until my freshman year at UD so it was such a centerpiece of my life and my friends lives our freshman year. I felt kind of bad for the freshman this year because they didn't really get to experience that. They just saw a fence around the chapel and orange construction cones… I can't wait for the opening Mass. It will be really great for all the students to see everything that's changed."
One thing that did not change is the chapel's iconic dome and cross atop the chapel. Both received fresh coats of paint, but the university's most iconic image remains in tact.
"The chapel dome has always been our symbol," Father Fitz said. "It's on our shirts. If you look on the website, it's there. On our stationary, it's there. It has become the icon of our university."
A version of this story originally appeared in the August 2015 print edition of The Catholic Telegraph.