From Top Model to role model: Leah Darrow shares story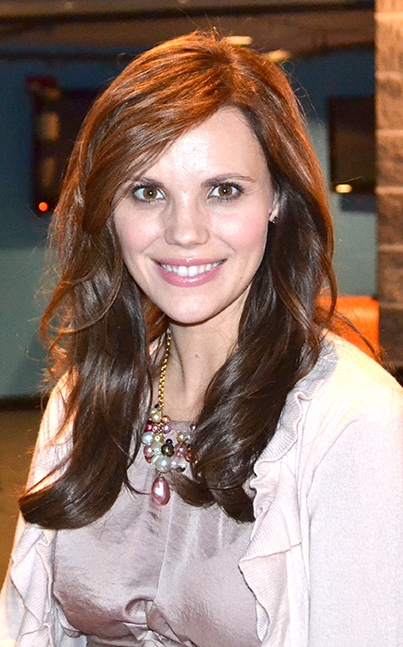 By John Stegeman
The Catholic Telegraph 
Leah Darrow had a career as a model and on reality TV, but other than that, her story is one to which many young people can relate.
Speaking to 250-300 youths March 19 at The Underground in Forrest Park, Darrow told how she started to drift from her faith in high school. As a 15-year-old sophomore, Darrow was all dressed up in a cute homecoming dress and matching shoes. It was then she had a choice to make. Would she accept "imitation love" and embrace a culture that validates premarital sex, or choose the authentic love of Jesus and self-control.
"I was a coward, and I chose imitation love," she said. "I chose to be used, and I chose to use someone else."
Darrow's road continued down that path. She cohabitated with her boyfriend, visited Planned Parenthood for contraception and adopted a "theology of me," doing what she wanted, when she wanted.
After her time on America's Next Top Model, at a subsequent risqué photo shoot, Darrow had a powerful experience. A camera flashed directly in her eyes and as she blinked, she saw herself and saw the immodest outfit she was wearing. She saw the emptiness of her life, and that was enough.
"I knew God had given me so many gifts and talents and for so many years I had wasted them," she said. "I used every gift and talent for me… I used it all for my self."
She quit the shoot and called her dad, who drove from Missouri to New York and took her to confession. She gave her sins to Christ in confession, and the rest is history as she went on to become a Catholic apologist and speaker. She and her husband Ricky Soldinie are both studying for their Master's Degrees in Theology of the Body at the Augustine Institute in Denver. The couple is expecting their first child in August.
"After I had my reversion back to the Catholic Church I did not want to share my story," Darrow said. "I wanted to live a quiet life, a faithful life but I wanted to get away from it all.
"I think we all have it in us" she continued. "When you start doing that thing in your life that you know you've been called to do… God's given us all a specific mission and I do feel that this is part of that… I love sharing my faith and encouraging others to dare to live the gospel of Jesus Christ."
Darrow's talk  was sponsored by Ruah Woods, a ministry focused on John Paul II's Theology of the Body. Ruah Woods hosts speakers and events, offers psychological services, camps, spiritual mentoring and retreat spaces. Previous speakers Ruah Woods hosted at The Underground include Jason Evert and Melanie Pritchard.