Heaven's Gain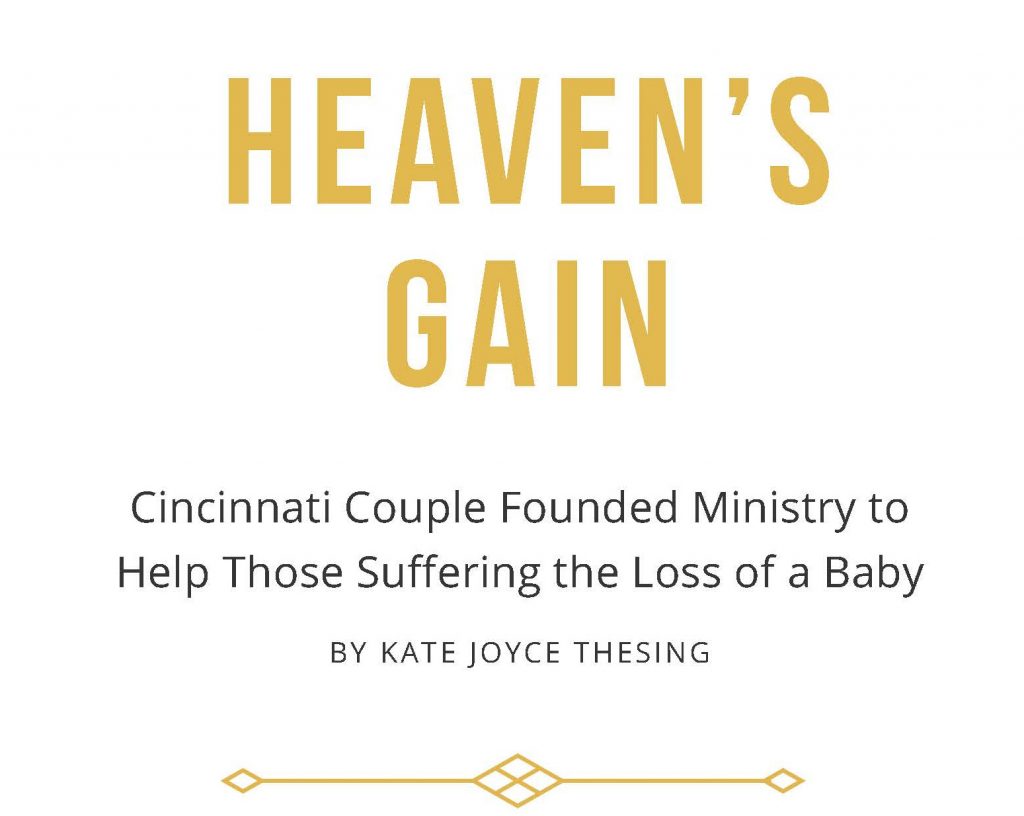 After losing their fifth, ninth and tenth babies at different gestations, Jim and Donna Murpy felt called to serve families suffering the loss of a baby. Together, they founded Heaven's Gain Ministries in Cincinnati. Heaven's Gain Ministries nationally (HGM) helps families before, during, and after the birth of their baby. From the time a couple learns their baby has no heartbeat, HGM is there to help parents prepare
"We listen to their concerns and explain what happens when the baby is born," Donna said.
For those delivering their miscarried baby at home, they prepare parents for what they can expect to see during the miscarriage. "We offer a Certified Baby Loss Doula to serve families before, during or after the delivery of their baby, at home or in the hospital," said Donna.
The doula also guides parents in determining what memorabilia they wish to keep and treasure, including photos, footprints, handprints and hospital bracelets.
"We have peer support coordinators to offer support, one- on-one or in a group setting. We recently added group support for people who are pregnant after a loss, " Donna said.
Gate of Heaven Cemetery has a Baby Garden and provides burial for miscarriages and children who die before age two for any family who is a parish member in the Archdiocese of Cincinnati. For Catholics, the funeral and burial are important steps, but it does not stop there. The need for ongoing opportunities to heal is why Gate of Heaven Cemetery also hosts an annual Candlelight Service for Deceased Children.
Jennifer and John Deitz have their child buried in the Gate of Heaven Baby Garden.
"Knowing life begins at conception makes each one of our losses deeply personal," said Jennifer. "Our Catholic faith and what our parents taught us, strengthened us and reminded us to trust that everything is in God's hands. We are extremely thankful and honored that this child of God is loved by all. Our baby was laid to rest at Gate of Heaven Cemetery peacefully in 2019 thanks to their ministry. We have been blessed to go to those sacred grounds to reflect and remember all the precious gifts from God that we have lost," said Jennifer.
When asking Donna and Jennifer what helped them and their husbands grieve, they both touched upon how their children's lives are heaven's gains. Jennifer hopes others who have had miscarriages and lost their babies will, "Believe and know that Jesus and his Blessed Mother Mary are listening. It is all in God's hands," said Jennifer. "Find your faith. Be strong. Reach out to these ministries that God has for us right here, Heaven's Gain Ministry and Gate of Heaven Cemetery's Ministry and their Baby Garden."
This article appeared in the July 2021 edition of The Catholic Telegraph Magazine. For your complimentary subscription, click here.