Help Jesus in Disguise: A letter from Archbishop Dennis M. Schnurr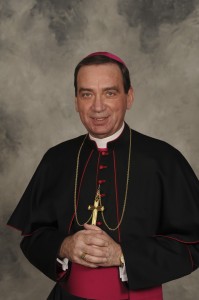 Dear Brothers and Sisters in Christ,
Our archdiocese will be taking up The Catholic Relief Services Collection (CRSC) April 29 and 30. By participating in this collection, you are responding to Jesus in disguise in some of the most marginalized communities in our world. The CRSC provides services for immigrants, humanitarian aid in the wake of natural disasters, refuge for the displaced, and advocacy for peace and justice around the world.
Let us join together in this collection to support those suffering and on the margins of society.
For example, in Niger, changes in climate in western Africa are adversely affecting poor and rural farmers. No matter how hard these farmers work, droughts are shortening the rainy season, leaving harvests too small to support families and communities. Your support of the CRSC is helping connect businesses that provide drought-resistant seeds to these communities. These new relationships are providing hope to these communities for a sustainable future.
The CRS Collection funds CRS' work in the most impoverished corners of the world and also funds five other Catholic world relief programs. In those five programs you are instrumental in
• Feeding Jesus' hunger in suffering refugees through the USCCB Department of Migration and Refugee Services (MRS).
• Offering legal assistance to Jesus in struggling immigrants through the Catholic Legal Immigration Network, Inc. (CLINIC).
• Reaching out to comfort Jesus' loneliness in isolated workers through the pastoral work of the USCCB Secretariat of Cultural Diversity in the Church.
• Advocating on behalf of Jesus in the poor and marginalized through the public policy work of the USCCB Department of Justice, Peace and Human Development.
• Sending aid to Jesus in the victims of natural disaster through the Holy Father's Relief Fund.
Your support of this collection makes a difference for so many around the world. Please prayerfully consider how you can support the collection this year. If you want to learn more
about the collection and the people who benefit, please visit www.usccb.org/catholic-relief.
Support the collection and answer the knock of Jesus in disguise.
Help Jesus in Disguise
Sincerely yours in Christ,
Archbishop Dennis M. Schnurr