Help offered to family of fetus found in wastewater treatment plant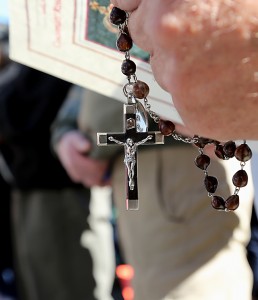 Workers at the Cincinnati wastewater treatment plant on Gest Street reported that they found the remains of a human fetus around 4:30 a.m. on Feb. 12.
A spokesman for the Archdiocese of Cincinnati said the mother and family of the fetus were of great concern and urged them to take advantage of help available.
WXIX-TV news reported on its website that officials with the Metropolitan Sewer District of Greater Cincinnati said the remains were likely carried to the treatment plant via the sewer system, according to a memo from City Manager Harry Black to City Council.
Workers said the tiny body was surrounded by trash and was about to be scraped off the filter screen by a machine, so one worker quickly retrieved it.
Cincinnati police and the Hamilton County Coroner's office were called to the scene.
"Our hearts and prayers go out to the mother and the family of this child under these tragic circumstances," said Bob Wurzelbacher, director of the archdiocesan Respect Life Office. "To the mother or for anyone who has lost a child under difficult circumstances, please remember that you are not alone. For a confidential appointment and assistance from those who have traveled similarly painful roads before you, please contact Catholic Charities of Southwest Ohio at (513) 489-8898."
Police said the coroner's office is now handling the case.
Counseling has been made available to all staff involved in the incident, Black's memo states.
"This tragedy for both baby and unknown mother requires more investigation," said Paula Westwood, executive director, Right to Life of Greater Cincinnati. "Cincinnati Right to Life is reaching out to local and state officials and others to investigate further such a desperate and sad discovery."
The coroner's office determined the remains were that of a "16-18 week old non-viable fetus. "The office states that a 20-week fetus is viable according to Ohio law, which is why there is not an ongoing criminal investigation.
The coroner's office is determining the best way to properly honor the remains. Wurzelbacher said, "We also want to encourage the coroner's office to arrange for a proper and respectful burial for the baby."
A Right to Life of Greater Cincinnati statement contained an offer to pay for a proper burial.