Helping teachers become disciples Vocare online catechetical training aims to form teachers who follow Christ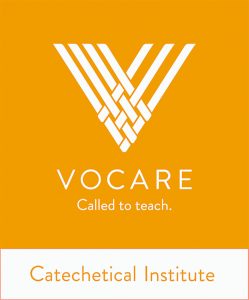 The archdiocese's new online certification program for catechists, Vocare, will launch this month for Catholic parish catechists, principals and teachers.
Developed over 18 months after five years of researching how to best deliver catechetical training in the archdiocese, Vocare (pronounced "voh-CAHR-ay") will add ongoing formation to one-time training. It will provide the three things catechists said they wanted most (flexibility, affordability, and consistency), and the one the thing Archbishop Dennis M. Schnurr said he wanted most: training that is faithful to magisterial teaching and accessible to all.
"Our current ways of forming catechists need improvement," Archbishop Schnurr said in video introducing the archdiocese's new Catechetical Institute, which produced Vocare as its first project. "We know this from declining Mass attendance and sacramental participation: We are not effectively preaching the Good News in ways that can be heard in our increasingly secular culture."
Until this year, anyone teaching religion for a school or parish had to take a series of classes scheduled in various places around the archdiocese throughout the year. If their parishes didn't have a budget for it, volunteer catechists had to pay for the classes themselves, and then make it to the sometimes far-flung locations over a series of weeks, fitting the trips into often-packed schedules. Increasingly, people failed to finish a series – or never signed up in the first place.
Vocare classes will be available to students online, 24/7. Every catechist will receive the same instruction. And the price tag is lower – in fact, for many people there will be no fee, thanks to a grant from the One Faith, One Hope, One Love campaign.
Rob Brock, coordinator of the Catechetical Institute, said the program will deliver everything catechists need. "We've heard, we've listened, we've communicated in person, electronically, through newsletters and group meetings – every way possible — to assure that Vocare meets the needs of our catechists," he said.
In addition to providing the basics of the Catholic faith and of how to teach, Vocare has a second, more important mission: ongoing formation.
"When the teacher becomes a disciple, he echoes the master's teachings," said Father Thomas Wray, director of the Office for Evangelization and Catechesis. "We're proclaiming the teachings of the church, which is radically different from secular education."
The goal of catechesis, he said, is to echo the words of Christ. Father Wray explained that Jesus taught in a rabbinic way, speaking at length while walking with His disciples rather than lecturing or writing. Catechists today should strive to be such disciples, he said, and to walk with Christ by lifelong, ongoing formation, as well as by participating in Church life through Mass and the sacraments.
Vocare will add continuing education to certification. The previous system had three levels, and ended after the catechist had finished the final level. Now training will consist of four tracks. After finishing 10 hours of classes in each track, catechists will be required to complete 10 hours a year of classes, or their equivalent (see sidebar), to maintain certification.
Many professions, and even volunteer positions such as coaching, require ongoing certification and training. Vocare is aiming for something more. 'The classes are not supposed to be a technical hoop to jump through," said Danny Schneible, coordinator of digital evangelization for the office, who has taken the course content from third-party organizations and customized them for Vocare's courses. He also provided the voice-overs for all the video introductions. "The goal is that people get excited about their faith to where they want to share it with their students and their families – not just to so that they can teach it, but so they can really embrace it and become disciples themselves."
The four tracks will cover seven subject areas essential to understanding and passing on the teachings of the Church, Father Wray said. Enrichment classes in topics such as Scripture, moral theology, and the relationship between science will help teachers and catechists proclaim the faith in a word that is increasingly hostile to it.
"It will help them say, What is going on in my school? With my kids? In my parish?" Father Wray said. "How am I reacting to the reality I see around me every day, and what does that witness to the people I teach?"
Brock said the feedback from many teachers and catechists who have helped the program has been positive. "They're saying, 'You've made it easy for me – thank you!'"
---
Sidebar
How Vocare will work
The first phase of Vocare is for teachers, catechists, and principals. It will launch on July 26. Each school or parish will have a Vocare administrator. Contact the administrator for your parish or school for information about how to log in to the site to begin classes, or to see what they are like if you are a prospective catechist.
People who are currently certified as catechists do not have to begin continuing formation until 2019, but may choose to begin at any time. People who are in the middle of formation will be assigned a level that corresponds to the training that they've received so far, and will continue from there. Only new catechists with no training will begin at the first level.
After finishing their levels, or if they begin at the highest level, they can choose to take 10 hours of online formation classes each year or substitute some of all of that training with other classes or events (such as a college class on theology).
Principals and DREs can also arrange in-person classes, or events blending the online classes with group reflections. Rather than relying on classes arranged by the central office, Father Wray said, Vocare is administered by the DRE or other local catechetical leader, so that in addition to being convenient for catechists, training can be more tailored to each school or parish.
Future Vocare phases and projects by the Catechetical Institute will target parents, adults and families, and other formational processes. They are still being developed and start dates are still being determined.