Hispanic Ministries growing in archdiocese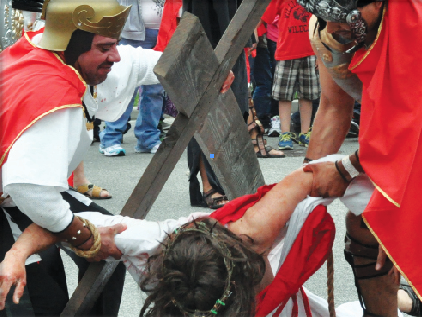 By Mary Bertolini
For The Catholic Telegraph
More than half the Catholics under 30 in the United States are Hispanic, and that age group in the Church is growing rapidly, Father Louis Gasparini, head of the archdiocesan Office of Hispanic Ministries said.
"When Jesus said to Peter, 'Feed my sheep,' it was not an invitation. It was a call to pastoral action, and Jesus continues to make that call to the church today," Fr. Gasparini said. "The sheep under 30 need both pastoral care and pastoral leadership training so that their own faith formation can lead to active roles in the Catholic community."
The church is moving from a patchwork setup where cultures share pew space but remain separate to a woven tapestry of cultures, all working together to build strong, faith-filled parish communities. This is happening in Cincinnati for a variety of reasons, but three stand out in particular: Archbishop Dennis M. Schnurr's desire from the beginning to work with the growing Hispanic population in the archdiocese; the willingness of some pastors to make it happen in their parishes; an active, invested Hispanic Ministry Office.
Fr. Gasparini said this spring has seen some events take place to both deepen faith and plant seeds of active participation in the church. On March 29, despite heavy rain and uncomfortable temperatures, 30 15-year-old Latino girls, accompanied by their mothers, came together for a retreat to help them prepare spiritually for their upcoming Quinceañera. Held at Our Lady of the Sorrows Church in Monroe, the retreat took place under the direction of Dina Beach, director of Hispanic Ministry at St. Julie Billiart Parish in Hamilton, and Sister Maria Stacy, SND, assistant director of Hispanic Ministry in Dayton.
The girls listened to talks, engaged in several activities, and watched and discussed a movie on St. Maria Goretti. Before the retreat closed, each girl dedicated herself to the Blessed Mother. One of the participants was asked, "So, now that you've made your retreat, you will be perfect little angels, right?" And she responded, "Oh, no! I wish! But we now have some guidelines to help us make good choices along the way."
Fr. Gasparini said in the coming months, each teenage girl who took part in the April retreat will celebrate her Quinceañera, a special ceremony held to recognize the journey from childhood to maturity. It is an opportunity for her to commit herself to building relationship with God as she journeys toward adulthood.
Young Hispanic married couples from the Cincinnati area came together on April 26 for a retreat given by Fr. Samuel Gonzalez, associate director of Catholic Hispanic Ministry in Dayton. Father Samuel has given numerous marriage preparation programs for Catholic Hispanics in the Dayton area, but when young married couples in Cincinnati voiced that they wanted to add a deeper faith perspective to their relationships, he and his team prepared a program for them. The content included many topics such as the meaning and purpose of marriage and family, sexuality and spirituality, the beauties and difficulties of married life, and the importance and challenge of communicating with children. More than thirty couples participated and the feedback was very positive, Fr. Gasparini said. St. Susanna Church hosted the event, with Karla Eysoldt, pastoral associate, heading the welcoming and hosting team.
On Good Friday, members of the St. Charles Borromeo Hispanic community brought to life the passion and death of Jesus, giving spectators a powerful reminder of the intense suffering Christ endured for our salvation. Fr. Gasparini said the preparation for this passion reenactment is a Bible study in itself, and those who came to witness the event responded with respect and emotion to this unique form of catechesis.  St. Charles Borromeo welcomes everyone to the annual event, and while it is carried out in Spanish, Fr. Gasparini, said to keep in mind that acting, like smiling, is a universal language.
Thousands of Catholic Hispanic immigrants from numerous Latin American countries have come to live in the Archdiocese of Cincinnati, Fr. Gasparini said, and it is slowly beginning to feel like home to them. Parishes in cities like Cincinnati, Lebanon, Hamilton, Dayton, Sidney, Springfield, Tipp City, New Carlisle, and Bellefontaine are making this happen. There are pastors and communities alike who are answering the call of Jesus, "Feed my sheep," and Fr. Gasparini said they serve not only as active pastoral ministers but as role models for those who are still trying to figure out how to answer that call through a spirit of hospitality and a plan of formation for active church leaders.
 This story originally appeared in the June 2014 print edition of The Catholic Telegraph.