Leap and there will be a net: message resonates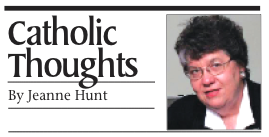 "Leap and there will be a net." This little message has resonated in my heart since I first heard it. It is as if the Holy Spirit wants it known that we should be taking risks if we really believe what we profess. Discipleship is no place for people who are tentative. We must be leapers.
How different would our lives be if we didn't make excuses for not doing things? What if we made decisions with the kind of confidence that betrayed our belief that we would not fail?
We've seen this kind of thinking before: Pope John XXIII at age 82 started a council; Dorothy Day with little to no money opened the Catholic Worker House; Franciscan friars rented a mall storefront during the Christmas season to pray with shoppers. All of these people relied on their hope that God would handle things, that God would provide the net if only they would take a leap of faith. Pope John never said, "I'm too old to be bothered." Dorothy Day didn't give a thought to the idea that lack of money could stop her. And as for those friars sitting in the mall last Christmas, I'll bet it never entered their minds that no one would want to sit a while in their rented space.
Trust or hope is the important ingredient when we sign up to be a leaper. It isn't that we blindly think that everything we do will always be successful. There are those times when things do not go as we want—but they go as God wants. In the end, we learn to trust God with the best outcome. We cannot do that if God is a stranger to us. We need to know God as the beloved Father, Friend, Savior, Shepherd, Advocate. Then our perspective can change. Trusting God requires a vulnerability that only seems to happen when conversion happens.
We boldly go where no one has gone before because we trust God to provide the net. We begin to do outrageous things: We go back to school and get that master's degree. We give life to more than the "socially acceptable" two children. We give our extra money to the poor. We leap into our failing marriage and decide to love again. Then, it is the little things that distinguish a leaper: We go to our favorite restaurant on a Saturday night without a reservation. We plan a vacation with our sister and her noisy family. We eat ice cream with a three-year-old in eighty-degree heat.
Plain and simple, we experience an absence of fear. We know God's track record. We look back on our lives and see that the things that scared us silly were not worth worrying about. Our God was present to get us through rough times. Our suffering led to something greater: a peace and a joy that surpasses all understanding.
Fear is the one thing that can stop us from leaping. But when we can name what we are afraid of, it loses its power over us. In the very naming of the fear, we tame it and a leap becomes possible. Being afraid of the unknown consequences of our leap often is enough to stop us. Our mind is riveted with "what if." Could it be that all those "what if" statements become the stumbling blocks to an awesome outcome? Self-doubt and fear are fierce enemies in God's kingdom.
One of the greatest leapers ever known is the Blessed Virgin Mary. She took a leap for all times when she said "Yes" to becoming Jesus' mother. She had no idea what she was in for as the mother of God, yet she did not hesitate. Her trust in God's net was 100 percent. When she proclaimed "for He who is mighty has done great things for me," she absolutely believed that God would not fail her, that what appeared impossible was a sure thing.
This month we celebrate Mary's life as a beautiful leap. How marvelous it would be if we all stopped a moment this month to ask Mary to help us recognize and take our own leap of faith!
As for me, I think I'll take a flock of three-year-olds to the ice-cream stand!
This Catholic Thoughts column by Jeanne Hunt originally appeared in the June 2014 print edition of The Catholic Telegraph.