Archbishop tours St. Joseph orphanage campus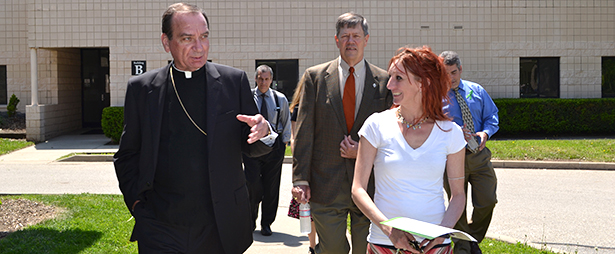 By Steve Trosley
The Catholic Telegraph 
St. Joseph's Orphanage still lives up to its name but the many services it offers bares little resemblance to the traditional concept of orphanage.
Executive Director Eric Cummins says the throughout the years since Archbishop Joseph L. Bernardin facilitated an expansion of the facility in 1976 with the purchase of the Woodmar Farm in Anderson Township, the orphanage has worked to expand its reach into the community.
Archbishop Dennis M. Schnurr recently toured the Altercrest Campus.
"Starting with a 24-bed treatment facility for boys with emotional and behavioral problems, "Cummins said, "the facility expanded to provide special education and group therapy for more than 50 children who were struggling in the traditional school environment.
"The last 10 years, St. Joseph Orphanage has dedicated and grown a team of people to focus on the young adult years," Cummins said. "Starting with a new eight-bed residential program focusing on life skills and community integration, the goal to support children during the transitional phase grew from there."
The care team now works with more than 120 young adults in southwestern Ohio, readying them for adulthood, Cummins said.
"The most recent addition to this continuum of support and care is an independent living services program, currently housing 12 young adults (ages 16-21) in their own apartments. An on-site life coach and care coordinator work closely to help these individuals navigate their path to adulthood and the future," Cummins said.
The archbishop's interest in the orphanage comes at a time when increased referrals have lead to an obvious need for expansion.
At Joseph Orphanage is a United Way agency partner and provides services to both public and private school districts and social agencies in the Cincinnati and Dayton area.
This story originally appeared in the June print edition of The Catholic Telegraph.