Historic group of nine men ordained deacons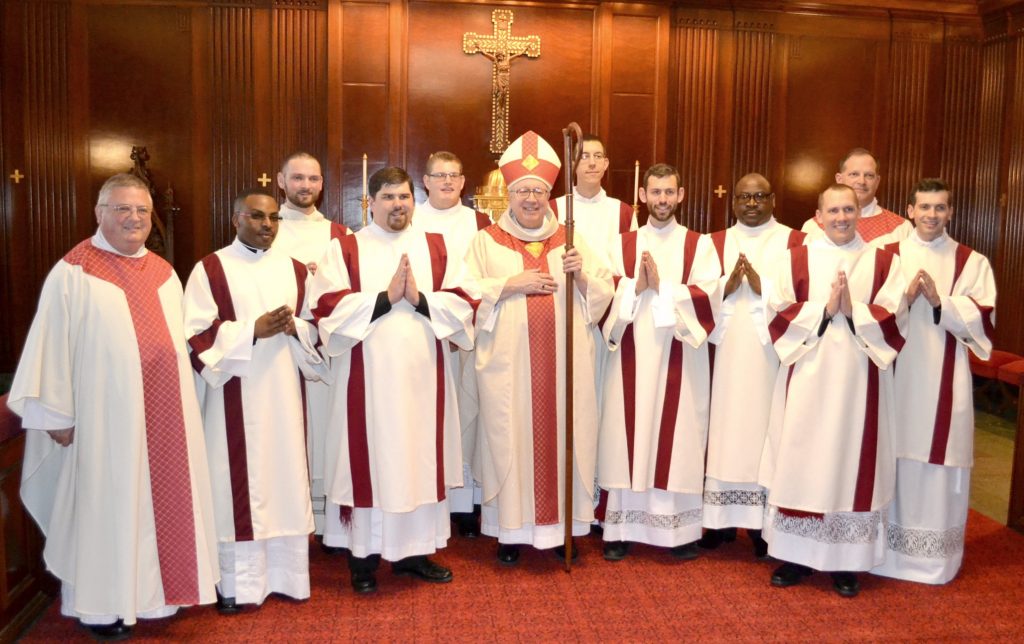 Nine men, the largest group in 38 years, were ordained transitional deacons at the Cathedral of St. Peter in Chains April 28.
Bishop Joseph R. Binzer celebrated the Mass and ordained the men in ancient ceremony that includes an oath of obedience; presenting each man with a deacon's vestment and stole and with a book of the Gospels; and a silent ritual called the laying-on (or imposition) of hands.
"The Psalmist said, 'This is the day the Lord has made, let us rejoice and be glad in it,'" Bishop Binzer said as he began his homily. "And this day is a truly glad one."
Citing the saying that good things happen in threes, Bishop Binzer said, "maybe we can create a new one saying that awesome things happen in three times threes."
Transitional deacons are ordained, but will continue their seminary studies and be ordained priests after a final year of formation. Like permanent deacons, transitional deacons assist priests and can preside at weddings, baptisms and funerals. They proclaim the Gospel at Mass, and they are especially tasked with ministries of charity.
In his homily Bishp Binzer told the men that their new task was to speak the words of Christ, to do all for the greater honor and glory of God, and to remember to call upon the strength of Christ, rather than rely on their own strength. "Whatever we accomplish is because Jesus Christ works through us," he said, reminding them to also call upon and imitate the Blessed Mother, patroness of the seminary.
The group is remarkable not only for its size but also for its breadth. The new deacons "are nearly a perfect microcosm of the entire people of the Archdiocese," said Wayne Topp, associate director of vocations for the archdiocese. "Three are from the West Side and two are from the East Side. One is from Springfield, one is from Piqua, and one is from Champaign County. Two of these men are originally from Africa. One was born in Spain, one is a convert to Catholicism, one was homeschooled, and all have found their way, through the grace of God, to offer all his life to serve the people of God as a deacon and eventually as a priest! We praise God for his great generosity and mercy as we celebrate this gift to the Archdiocese!"
The nine new deacons are: Deacon Alex Biryomumeisho (home parish: St. John Neumann, Fairfield), Deacon Mark C. Bredestege  ((home parish: St. Joseph, North Bend), Deacon Zachary W. Cecil ((home parish: St. Mary, Piqua), Deacon Christian A. Cone-Lombarte (home parish: Emmanuel, Dayton), Deacon Ambrose T. Dobrozsi(home parish: St. Gertrude, Madeira) Deacon Andrew J. Hess (home parish: Sacred Heart, St. Paris), Deacon Elias Mwesigye (home parish: St. John Neumann (Fairfield), Deacon Jeffrey M. Stegbauer (home parish: St. Susanna (Mason), Deacon Jedidiah Tritle (home parish: St. Raphael Springfield).
For more, look for our covering in the June issue of The Catholic Telegraph.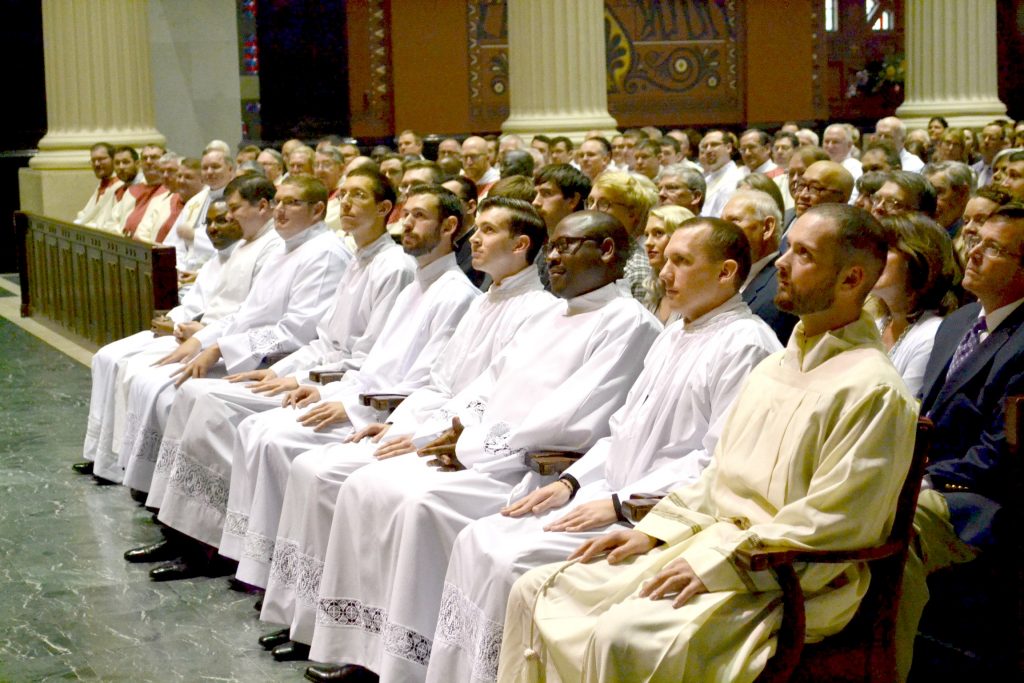 For the Ordination of Deacons Slideshow click below