Holy Family Frenchtown Celebrates 170 Years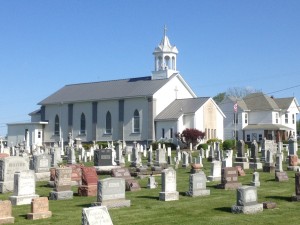 As Holy Family Parish in Frenchtown celebrates 170 years of its founding and 100 years in the same church, research confirmed it is the oldest church in continuous operation in Darke County.
"The church was named Holy Family — Child Jesus, the Virgin Mary, his mother, and Saint Joseph, his adopted father," said parishioner Keith Didier quoting from a letter written by founding pastor, Father Louis Navarron. Didier, an auditor for Darke County, conducted research leading up to the celebration.
On December 29, 1845 Father Navarron wrote: "I command to build another church with logs to whom I gave the name of the Holy Family. I chose this Holy Name on account of the time, year and families between whom it shall be built. I thought it to be most suitable to my purposes."
The church was placed on the National Registry of Historic Places in 1979.
The anniversary Mass was celebrated by Archbishop Dennis M. Schnurr presiding. Current pastor Father James Simons, former pastor Father David Vincent along with Father Oscar Seger and Deacon Michael Meyer concelebrated. The Knights of Columbus were present. A reception followed at the Knights of Columbus Hall in Versailles with about 225 current and former parishioners.
"Several years ago, we had two Redemptorist priests give a mission to mirror the first mission given (here) back in 1850," said Jane Pierron, pastoral associate. "One of the comments they made was about how we stand on the shoulders of the past as we live in the present and look toward the future. I worked with the committee to put together a pictorial history of the parish — gathering pictures of church buildings, first communions, confirmations, weddings, anniversaries and faith formation and parish groups. We celebrated our history of faith through the hard work of our ancestors as they built both the building and the community."
It all started In the early 1800's. "French settlers came from the Alsace and Lorraine regions of France on their journey to the United States," Didier said. "Arriving by ship in New York, they settled in Stark County. Many then journeyed to Darke County near Versailles. St. Valbert was the first church for the French speaking people, established in 1839. Because of travel concerns, the people in the Frenchtown area established their own parish under the direction of Cincinnati Bishop John Baptist Purcell. A log church was built in 1846 on land donated by the Subler family. When a larger church was needed in 1866, the current brick and Gothic style church was built. Many changes have occurred since then. A parish rectory and hall was built along with cemetery additions. "
Retired 34-year high school industrial technology teacher and now part-time farmer John Grilliot described Holy Family "as a stable, strong, healthy community of all ages — people who are a very tight-knit group who tremendously support keeping up the church. If we need money for something all we have to do is ask and they make it happen."
Grilliot said eight to ten years ago the church needed exterior work — applying a stucco liked material with Styrofoam backing against the soft brick walls of the church building to prevent moisture damage — a $30,000 cost. Following a parish meeting of about 30 select members, an announcement to the parish as a whole, and distribution of special envelopes for donations, more than the required coast was collected.
Grilliot, a 39-year parishioner, said other projects — repairing the bell tower, hiring a Sidney artists you complete a mural of the Holy Family behind the altar, restoring the original altar, painting — have been completed through calls asking for parishioner help.
"We have a combined parish with St. Denis (Versailles) and (Immaculate Conception) in Bradford. I have been really impressed that we have been able to keep our personality, keep our attendance up, our finances in decent shape; and we are keeping our buildings in good condition inside and out. The outside of the church looks as good as it ever has and it was built like 150 years ago."