Honoring St. Joseph in the North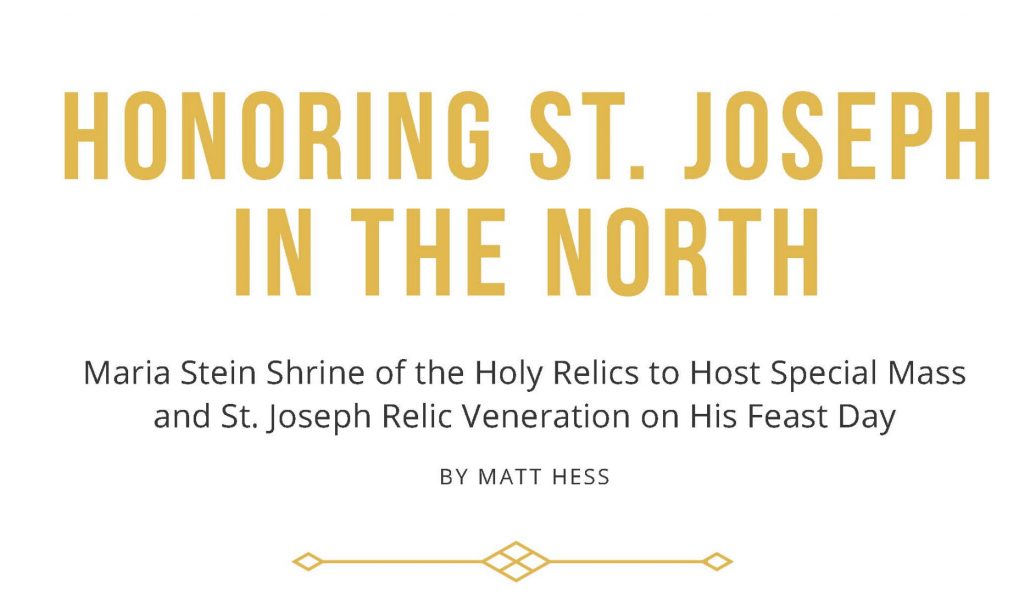 To mark this special Year of St. Joseph, the Maria Stein Shrine of the Holy Relics will hold a special St. Joseph Mass on his feast day, Mar. 19, at 7 p.m. This will be an occasion for the faithful to join together to meditate on the life of the foster father of Christ, asking for his protection and thanking him for the blessings received by the grace of his Son.
Father Dan Schmitmeyer, archdiocesan Vocations Director, will celebrate this Mass, which is fitting, because in his ministry he forms men who are and will be the fathers of our Church communities.
"St. Joseph is a great saint to ask to intercede for you as you discern who God wants you to be," said Father Schmitmeyer. "In Scripture, we never hear him say anything, but he is always doing God's will. In humility, we should try to follow St. Joseph's example and be quiet so we can listen for God's whisper."
After Mass there will be a special blessing for fathers in attendance so they may be strengthened in caring for their wives and nurturing their children. The family unit remains the central structure of society, and by this blessing we ask St. Joseph to be the guardian of the family guardians.
A relic of St. Joseph from the Shrine's collection will be available for veneration by the faithful. Even though it can not be touched and kissed as is usual because of COVID-19 safety protocols, visitors can be near this sacramental and allow it to aid them in their veneration and mediation on St. Joseph's life.
While the body of St. Joseph has never been found, there are relics from his life in churches across the globe. The relic the Shrine will display is a particle of St. Joseph's cloak. The full cloak is in St. Anastasia Church in Rome.
The final piece of the night feeds the stomach as well as the soul. Drawing from a tradition that dates back to the Middle Ages, a special table to St. Joseph will be set up in his honor. It is traditional to fill it with treats that surround a stature of the day's patron. All present are welcome to share in these sweet blessings of St. Joseph and take some with them following the event.
The Shrine will keep the festivities rolling throughout the year, which comes to a close on Dec. 8. This summer, special pilgrimages will be available, focusing on the titles Catholics have given St. Joseph over the centuries.
For more information about the Mass or pilgrimages, you can reach the Shrine by phone (419) 925-4531, or by social media, facebook.com/mariasteinshrine.
This article appeared in the March 2021 edition of The Catholic Telegraph Magazine. For your complimentary subscription, click here.