'How could I leave that?' A sister writes why she's Catholic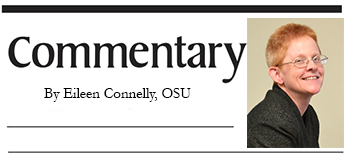 Editor's Note: A movement stared by the faith website Patheos is sweeping the web. Catholic authors are witnessing to their faith by sharing #WhyImCatholic stories online. Tell us HERE why you're remaining Catholic when the spirit of the age seems to be leading people out of the pews.
In the summer of 2011, one of my fellow Ursuline Sisters and I made a pilgrimage to Rome to mark the occasions of her golden jubilee and my final profession. On our first morning in the Eternal City, we visited the Basilica of Santa Maria Maggiore.
More #WhyImCatholic
4 Reasons I'm not leaving the Catholic Church
While admiring the splendid architecture and early Christian mosaics, we saw that Mass was about to begin in one of the side chapels. We slipped in and took our seats before realizing we were the only two Americans amid a group of Japanese tourists. During the homily, my gaze wondered to faces of the others in the assembly as they listened intently to the celebrant.

As an American, sitting in an ancient Italian worship space, celebrating the liturgy with our Japanese brothers and sisters, I was struck by the unity and universality of church. At the Sign of Peace, exchanging handshakes and smiles with those around us, I felt a sense of connection that went beyond language and nationality.
That feeling grew stronger as we continued our time in Rome, then continued our travels to Assisi, Florence, and finally Desenzano and Brescia, where our foundress, St. Angela Mericia, lived and ministered. Being the in places where Angela worshiped, walking the same streets where she reached out to those in need affirmed my permanent commitment to religious life (and still does). Visiting the sites that are so much of the history and tradition of our church, deepened my faith and sense of being in community with other Catholics no matter where they hail from.
As Catholics, we have been given an incredible gift in the Eucharist. Every Mass is the opportunity to participate in and celebrate the selfless sacrifice of Christ, in His unconditional love, through which He established communion between God and humanity. Christ gives himself to us in the Eucharist. Through the mystery of Eucharist, he gives us food for the journey of life that culminates in the joyful feast of eternal life. What He asks in return is simple, and yet precious: love Him and others in return.
For me, of Christ's a very real and meaningful opportunity to live out Christ's legacy of love came during Lent of my canonical year. I was asked to provide transportation for one of the disabled members of our parish to an afternoon concert at our church. I arrived at her home to find her in tears and totally unprepared for our outing. Her nurse's aide hadn't been by that day and she couldn't leave home without having her feet and legs, badly disfigured by disease, unwrapped, washed and bandaged.
She asked if I would be up to the task. I was momentarily taken aback, but then, in a grace filled moment, recalled Jesus' humility and act of servant leadership at the Last Supper. His words, "For I have given you an example, that you should also do just as I have done to you," (John 13:15) could not be ignored. I filled a basin with water, unwrapped her legs, and gently washed my dear sister in Christ's feet. I received a great gift of faith that day.
Our Catholic faith is beautiful and life giving, rooted in history and tradition, yet enduring and relevant as we are called to lead lives of compassion, service, gratitude and joy in often trying times. I find hope and strength and hope in our faith, in the Body of Christ. How could I ever leave that behind and why I would I want to?
Posted June 4, 2015