Human Trafficking the new face of slavery in Ohio: Part III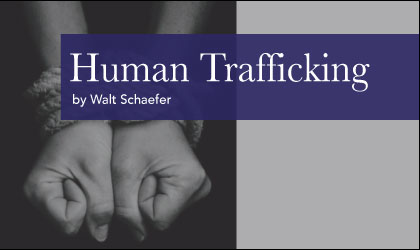 Part three of a series on a pressing issue for our region, and on the Catholic response to it.
The interstate highway system provides vital arteries for commerce. It is the circulatory system of America.
Pulsing along these multilane ribbons are trucks and vans and automobiles—all serving the travel needs of countless businesses and their customers—moving goods from supplier to user.
Sadly, not all of this commerce is legal and, surprisingly, human trafficking ranks third behind drugs and guns in generating illegal revenue, law enforcement officials said. As interstate hubs, Cincinnati and Dayton are not immune and, police vice control officers agree, this courge is among the most difficult of crimes to combat.
Cincinnati Vice Squad Specialist Nate Young said sex trafficking runs the gamut from organized crime to the neighborhood pimp offering his small harem of women to willing customers.
"A circuit exists… and we have been exposed to it here in Cincinnati. We have had an investigation that involved a guy… moving his girls from Cincinnati to Louisville to Indianapolis to Columbus to Dayton and back," Young said. He had a brother in Los Angeles "and there was some exchange between them. So, these are high-end prostitutes who were 'tricked' from city to city."
In even greater scope, another standard circuit runs from Chicago to Cincinnati to Nashville to Atlanta to New Orleans, Young said. "These are certainly traffickers in sex working a handful of days in each city and moving on. They base themselves in hotels" and advertise their presence on Craig's List, social media sites and largely pornographic websites dedicated to the illicit trade.
When a city hosts a big sporting event or convention, the traffickers descend on it with girls for hire—supply and demand at its most perverse.
Sex trafficking also is found in massage parlors and nail salons, said Cincinnati Police Officer Carrie Smith—a pseudonym for a female vice squad officer who at times works undercover. Young said strip clubs offer another haven for sex trafficking although there are none in Cincinnati. Customers can even flip through the Yellow Pages and look under escort services to "hook up."
"Massage parlors are getting a lot more attention…because some are not what they seem to be on the surface," Smith said. "We're looking at places where women are getting their nails done, where people are going in and out. You might see someone going in a back room and there's a living space back there…. When you're getting your nails done in say, Kenwood, and it's $50, and then you go to this weird little salon and it costs $15 and people are working from the time the shop opens until it closes, that's a signal that something isn't right. We pay attention to those types of things that aren't the norm."
Young noted that while there are no Cincinnati strip clubs "there are plenty of indicators that there is likely to be some trafficking going on in those places. We did an investigation (several years ago) that originated in the city that took us to a club called Deja Vu." The Clermont County club, since closed, "had a very heavy Russian population of employees," which stood out in the early days of significant human trafficking here.
Drugs and Recruiting
Those who recruit women into sex trafficking often search for the drug-dependent young people, or recruit girls and guys to get them hooked on narcotics. They rely on getting their next fix from the recruiter, who gradually introduces them to the sex trade, Smith explained. While not as common, male prostitution is not rare in the Cincinnati sex market, she said.
"That element of dependency on the trafficker is one of the biggest problems" for victims, she explained. "Several of the women we have spoken to in the last few years have had the same story.
"They were at a point in their really young lives where they were taken advantage of. We have heard from several women that the first time they were actually given heroin was by a parent or someone else they were very close to in their house.
"There was substance abuse before they ever got into being trafficked," she said. "What ends up happening is, if you have someone you trust and they give you something like that, it makes you dependent…inviting the next person to give you the same thing you are already addicted to" and forcing the victim to have sex to 'earn' it.
"A lot of women decide it is almost like the beginnings of a relationship. They build trust in the recruiter. They become dependent on that person who becomes their trafficker and he takes advantage of them. But, it starts, in a lot of cases, in their house when they're 11, 12, 13. It's sad."
Young agreed. "Many of these girls tend to gravitate toward prostitution to provide themselves the money to feed their addiction," he said. "There are all kinds of avenues to prostitute yourself. You can stand on the street corner. You can advertise on Craig's List or other sites. The true hard-core traffickers are in cyberspace looking for people who are using the internet to advertise, or they are out physically on the streets looking for girls or men who are in dire straits enough that they can pull them into a trafficking situation."
Law Enforcement Roadblocks
Trying to combat this issue presents a law enforcement nightmare.
The victims are threatened and fear retaliation. They have committed felony offenses as part of their sexual enslavement and don't trust police to forgive and forget.
Lower-end motel owners are willing to look the other way and collect the $40 or so room rate needed to keep their inn's doors open while larger-profile hotels are unwilling to lose the conventioneer or sports fan.
"My professional experience tells me there is no hotel I have never been in that has not had a victim of human trafficking operating out of it," Young said.
"It's a complicated issue. Some low-end hotels are probably not as inclined to work with us. When you're the owner or proprietor one of these motels, you're scratching and clawing to maintain your rat-infested, roach-filled motel. A lot of times they turn a blind eye because they're trying to make ends meet. I'm not trying to paint these people as victims., but we don't get much cooperation.
"The upper-end hotels do not want publicity. They don't want to lose a contract with visiting teams for the baseball season because suddenly they're a human trafficking hub. They don't want to lose that pipefitters convention coming to town. They don't want to have anyone perceiving them as having an issue with trafficking at their hotel.
"Generally, they won't call us. We know this because we have talked to them about putting up signs in their hotels: 'If you see something, say something,' all of that stuff. Everyone has respectfully declined about having any type of literature or signage in their hotel talking about human trafficking and reporting it.
See Something? How to React
Police receive many tips from the public.
"We get a lot of anonymous information, which is good," Young said. "We make an assumption it is from a citizen, but I'm sure it has come from hotel managers and people like that. They are also citizens. We even get tips from Johns (clients of prostitutes), who may say they 'just seen this girl and she was in a messed-up situation and I think she's in trouble.' I've even received text tips from that dynamic of people.
"Anonymous calls from family members of victims of trafficking come in, too," he said. "We do a lot of research on our electronic equipment—tracking phone numbers and movements of people. We have databases we can refer to. We are beginning to build databases that will tell us when people are coming back through Cincinnati, stuff like that. And we rely a lot on the information from outside sources—citizens, businesses."
Young said a national human trafficking hotline (1-888-373-7888) based in Washington, DC, and funded by Polaris, is manned 24 hours a day and passes information to local police. "Obviously, if someone is in peril, police have mechanisms to alert each department about where it's happening and get people there," he said.
"If you see something, call us right away and give as much detail as you can. General descriptions are great and where it's happening, but license plates are of greater use; so, get the license plate.
"Never step in and intervene. Weapons are generally implied in these issues. When we talk about getting search warrants or intercepting the trafficker, there's always a possibility of weapons.
"We advise citizens to be the very best possible witnesses they can be and to get as much information about what they're seeing and who they're seeing and get it to us. Look for tattoos or any key identifier, too."
While the vice squad gets citizen tips about trafficking issues about twice a week, Young said the information is generally too vague to be helpful. "Right now, between labor and sex trafficking, we are working on three or four cases with probably another three or four hanging in the balance—cases where we have some information but not enough to really do anything with."
The state of Ohio also has out a general task force on trafficking, run of State Attorney Mike DeWine's office. Some places, such as Toledo, have a task force partnered with the FBI. Cincinnati and Dayton do not, but law enforcement agencies throughout the state frequently collaborate on large-scale trafficking issues.
We have a continuous working group that meets monthly here," Smith explained, "different agencies working on different cases. We are working in Cincinnati, but criminals don't necessarily abide by city boundaries. Sometimes it will go on in a place like a Blue Ash hotel or up in Sharonville where there are hotels. We work with a lot of different agencies."
Part one of this series, in our February issue, covered sex trafficking. Part two, in our March issue, covered labor trafficking. Part four will cover outreach to victims. Fine our previous stories at TheCatholicTelegraph.com, search word "trafficking.", or
For Part I click here
For Part II click here
The Trafficking Victims Assistance program run by Catholic Charities Southwestern Ohio helps victims of sex and labor trafficking and their families. Visit Ccswoh.org/trafficking for help or
to volunteer.