Hungry for More: Dayton Native Prepares to Enter the Dominican Sisters of Mary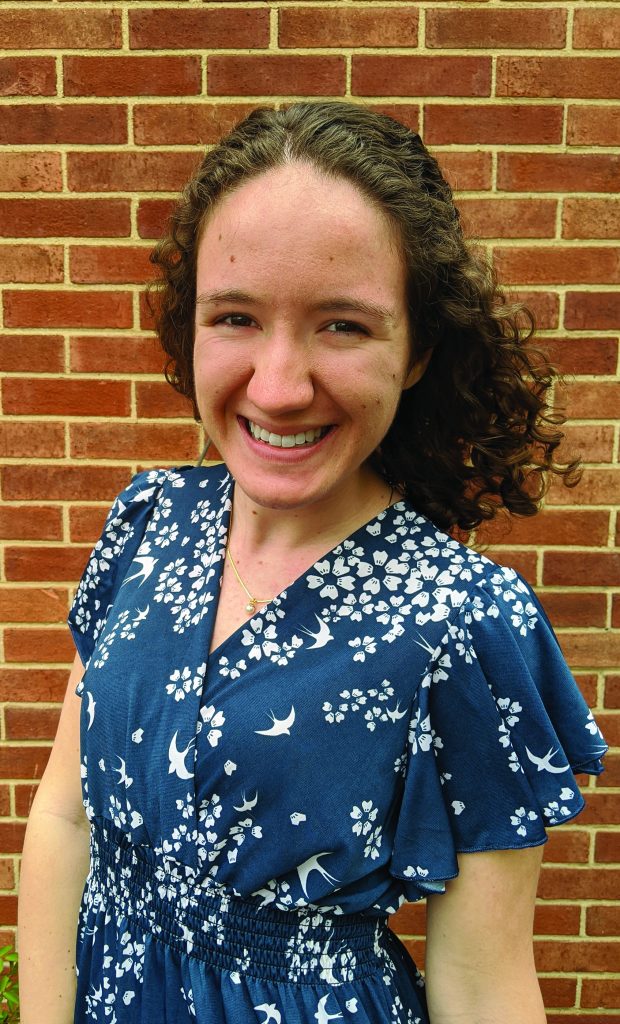 by Eileen Connelly, OSU
There is much joy and a certain sense of peace that accompany following God's will for us. This was how Karen Izor felt as she prepared to enter the Dominican Sisters of Mary, Mother of the Eucharist on Aug. 22, along with 17 other young women responding God's call.
The Ann Arbor-based religious community was founded in 1997 by four members of the Dominican Sisters of St. Cecilia. The sisters' educational apostolate includes staffing schools in their home diocese of Lansing, along with Catholic educational institutions across the country, where they teach pre-K through college.
It's the perfect fit for Izor, 22, who hails from Emmanuel Parish in Dayton, and is a 2019 graduate of Bowling Green State University with a degree in education.
"From a very young age, as early as Kindergarten, I told my mom that I wanted to become a sister," she said. "I also loved my teachers. I remember coming home from school crying because I thought I couldn't be a nun and a teacher. When my mom told me I could do both, I was overjoyed."
God "further planted this in my heart," explained Izor, during high school, when she attended Source and Summit, a Eucharastic-centered retreat for young people, where the Dominican Sisters were present. At another retreat with the sisters during her freshman year of college, Izor felt an inexplicable sense of joy and peace. After a night in the presence of the Eucharist, she shared what she was feeling with the community's vocation director, who encouraged her to continue her prayer and discernment.
While her mother has been entirely supportive of Izor's call, her father, who isn't Catholic, has wrestled with her decision, concerned about "losing" his daughter. "He doesn't understand that I want to give myself fully to the Lord and that we'll still be able to see each other and communicate," Izor said. "Out of respect for him, I agreed to wait until after I graduated from college to enter."
What followed for Izor was a period of waiting and accepting that things happen in God's time. Looking back, she's grateful for the opportunities she had in the interim, including student teaching and pilgrimages to the Holy Land, where she spent a night in prayer at the Church of the Holy Sepulchre, Rome and Assisi.
"I was so blessed by those extra years out in the world, all the people who have been praying for me, and how good the Lord has been. He has taught me so much about sacrifice and surrender."
Her first year as a postulant, when she will become known as Sister Karen, will be a rhythm of prayer, classes on Dominican spirituality and history, and an immersion into the life of her new religious family. At the end of the postulant year, she'll receive the Dominican habit with a white veil and her religious name. The second year of the novitiate provides the opportunity for the sister to discern and prepare for profession, along with experiencing the apostolic work of the community. At the end of this year, she professes the vows of poverty, chastity and obedience for three years. After her first profession of vows, the sister exchanges her white veil for a black one, which symbolizes conversion, penance and consecration to God.
The years of initial profession include guidance on living out the vows and continued growth in personal conversion and prayer and deepening of one's relationship with God. After a minimum of five years in temporary vows, the sister makes her profession of perpetual vows.
Izor emphasizes that while many people may not understand her choice, it is still an "attractive lifestyle" for young women. "When I was in college, studying and working on becoming a teacher, I found myself hungry for more. I found that through daily Mass, Eucharistic adoration and making the Lord my priority, everything fell into place. I love Mary and the Eucharist, the source and summit of our lives, and the sisters' priorities are so much in line with mine, everything flowing from the Lord and a desire to do His will.
"They begin every day with a Eucharistic Holy Hour, followed by Mass, which centers them for the rest of the day," she added. "They are running toward heaven, with their sights beyond the everyday world. Obviously, we all have day-to- day things to do, but our hearts are made for eternal love. It's such a beautiful life to be centered on Christ and the angels and saints in heaven. It's so beautiful to have a community surrounding you, praying for you, and helping you grow."
For other young adults discerning a call to religious life, Izor advises attending daily Mass, spending as much time as possible with the Blessed Sacrament, researching a variety of religious communities, talking to vocation directors and, most of all, "trusting in and surrendering to the Lord. He will not steer you wrong if you desire to do His will."
"Our ultimate vocation is to love," she said, "and that will look different for everyone. God doesn't place desires in our hearts to not fulfill them. He wants to fulfill them if we allow Him to, if we surrender to His timing and plan. When we say 'yes,' we find that true peace and joy."
This article originally appeared in The Catholic Telegraph Magazine. For your complimentary subscription, click here.