In Profile: Becky & Gary Rogers, The Luminaries of St. Lawrence's Performing Arts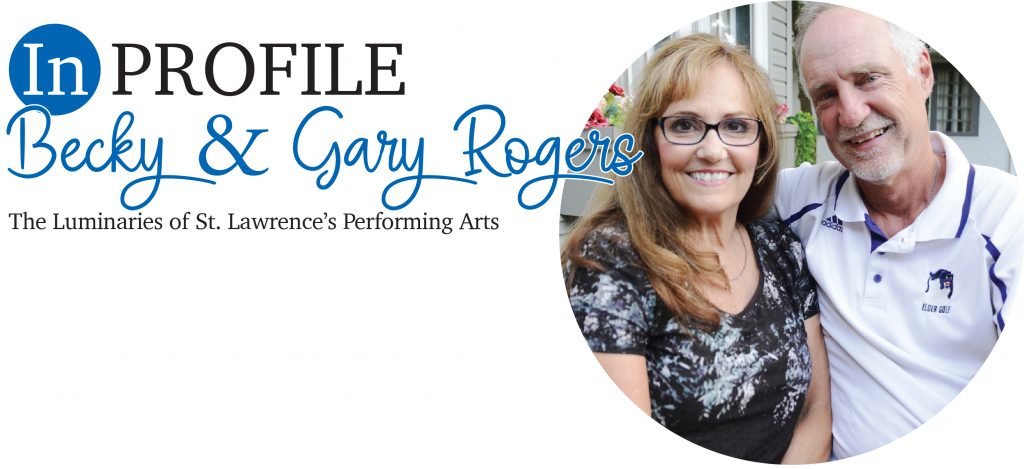 Story & photos by M.D. Pitman
Becky and Gary Rogers are indelible parts of St. Lawrence in Price Hill, and stalwart in their dedication, not only to the parish, but to the children they've guided for two decades in the arts.
The Rogers enter their 21st season directing the St. Lawrence children's choir, and, after two decades, Becky said it still feels like her "mission."
"If there's just one person that you think you can help, even if you're frustrated with the other 20 people, then that would be the payoff," said the 1978 Seton High School graduate. "You feel like you did something for them to help them in life."
Becky, 59, sang in the guitar group at St. Lawrence Masses, starting as a student at Seton High School. The school's pastor and principal asked her to form a choir, and she created the Eagle's Wings in the 1998-1999 school year. A decade later, Becky and Gary took over the drama department.
Gary, 62, was a "sports guy" in high school and didn't start performing until his senior year at McNicholas High School. The 1975 graduate performed in Annie Get Your Gun, and said he was hooked for a lifetime of performing.
"It changed my life," he said.
Gary is Becky's right-hand man, handling everything from sound and lighting, to set design and directing.
"I literally couldn't do it without him," she said.
The finished product is the kids' reward after months of hard work, but Gary's satisfaction comes during the production process.
"Working together toward a common goal has always been the appeal for me," he said.
Transformations have also been a bright spot, Becky and Gary said.
"Those experiences are just a wonderful thing to see, and that's happened so many times," Gary said.
Sarah Haverbusch, a sophomore at Seton High School, was one of those transformations, breaking out from her shyness. Her parents, Karen and Dave Haverbusch, first heard Sarah's true singing voice during her debut performance as a fifth-grader.
"It floored everybody," said Dave. "For Becky to find that, and nurture that, it was just a gift. A gift from God."
The Rogers have helped all three of the Haverbusch kids, who also include Joseph, a junior at Oak Hills, and Michael, an eighth-grader at St. Lawrence.
The St. Lawrence choir and drama "gives the kids a chance who aren't athletic or maybe as confident. It gives the kids a chance to make friends, a chance to belong. It's just a great opportunity for those kids," said Becky.
Becky and Gary were in the 1985 production of "Annie" in Indian Hill. Then Becky was in a car accident, and Gary made the half-hour drive from Withamsville to Price Hill to bring her to rehearsal and home again.
They married on Dec. 26, 1987, and raised five children. Some of their best memories involve their kids: Robert Rogers, 30, Rachel Doll, 29, Nikki Witterstaetter, 27, Noelle Westerlund, 25, and Michael Rogers, 23.
Witterstaetter said her parents are the glue holding the St. Lawrence performing arts together, and applies lessons she's learned to her volunteer work – which included coaching volleyball at St. Lawrence – and her professional life as a therapeutic group leader at St. Joseph Orphanage.
"I've learned about selfless acts, community service and the importance of supporting things you really care about it," she said.
Becky and Gary still learn new things, too, they said.
"Anybody can do anything if you put your heart and soul into it," Becky said.
For Gary, after 40 years in the performing arts and 20 years at St. Lawrence, he said you can't expect perfection and you must be patient.
"You learn the balance of when to push and when not to push, and I probably raised my voice many more times than I wanted to," he said. "But you learn a better balance for that, and you learn a little more patience, which is something everybody can do."
The St. Lawrence choir performs an annual spring show, but other performances throughout the school year include:
• Price Hill Thanksgiving Day Parade
• Caroling on the Hill at Elder's Schaefer Center
• Christmas Mass atSt. Lawrence
• The first Sunday of the month during the school year at 11 a.m. Mass at St. Lawrence