Inaugural Conway lecture at UC draws a crowd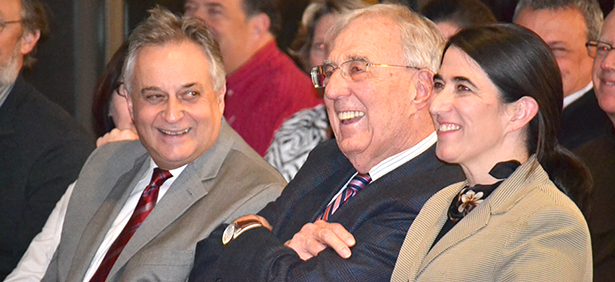 By John Stegeman
The Catholic Telegraph
Lectures are often dry academic affairs, but when a lecture series makes its debut alongside the launching of a brand new academic program — and there's a cocktail reception — they can be a little more exciting.
John Connelly, PhD, the author of the book "From Enemy to Brother: The Revolution in Catholic Teaching on the Jews" lectured on the same topic to a crowd of more than 200 Wednesday night at the Myers Alumni Center at the University of Cincinnati. The lecture was the inaugural Ruth J. and Robert A. Conway Lecture in Catholic Studies, named for the primary benefactors behind the university's new Catholic Studies program, led by Jeff Zalar, PhD. The lecture served a launch event  for the Catholic Studies program.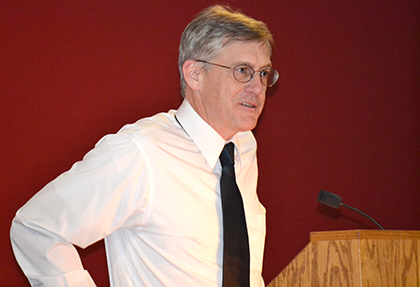 Connelly's talk dealt with evolution in Catholic attitudes toward the Jewish people over the centuries. Connelly noted that while it was never the magisterial teaching of the church, for a long time some within the church harbored unfavorable views concerning Jews, their role in Christ's death and their role at the end of time. Those attitudes began to change, Connelly said, with the publication of Pope Paul VI's Nostra Aetate, a declaration on the relation of the church to non-Christian religions.
"This statement on ecumenism itself has ecumenical origins," Connelly said. "The effect, I say in the book, was revolutionary. Judaism was now understood as living in relation to God, and not as a relic or some strange holdover from ancient times waiting to be Christianized."
UC hosted a cocktail reception in the Hunter Room before the lecture, celebrating the success and growth of the infant program. Zalar was hired in August of 2012.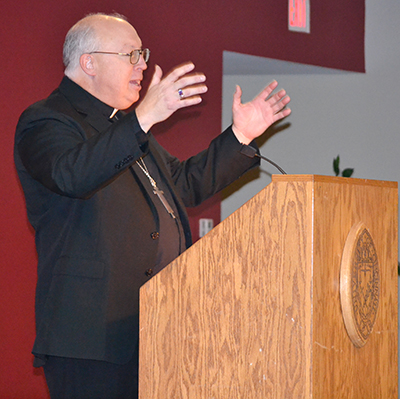 Auxiliary Bishop Joseph R. Binzer gave some introductory remarks before Connelly spoke. Bishop Binzer said that the topic of Jewish-Catholic relations was an appropriate one for the Catholic Studies' program inaugural lecture.
"Exploring a historical moment in Catholic-Jewish relations may serve to humble and challenge ourselves to recognize the shortcomings Catholics have often had as a church to fully respect the lives and dignity of Jewish people," he said. "But it should also inspire us to celebrate the progress our communities have made together."
Robert Conway was in attendance as well. The Conways established Zalar's position, the Ruth J. and Robert A. Conway Chair in Catholic Studies, with a $2 million donation.
The lecture was sponsored by the UC Program in Catholic Studies, the Department of Judaic Studies as well as the Jewish Community Relations Council, The American Jewish Committee-Cincinnati and the Center for Interfaith Community Engagement at Xavier University.