Inaugural Religious Brothers Day honors special vocation
As a way to acknowledge the gift that religious brothers day are to the church, a new annual celebration was held for the first time on May 1, the feast of St. Joseph Worker. Titled Religious Brothers Day, it was organized by the Brothers Think Tank, a group of religious who address issues related to brothers and brainstorm ways to promote the lay religious vocation for men. The Think Tank is comprised of members from Conference of Major Superiors of Men, Religious Brothers Conference, National Religious Vocations Conference, and Religious Formation Conference.
Following the publication of the Vatican document on the "Identity and Mission of the Religious Brother in the Church," a committee was formed to plan the celebration, which included prayer services and tributes to jubilarian brothers from lay and mixed communities and institutes of apostolic life. A prayer card was commissioned specifically for this celebration and focuses on the vocation of brothers — a gift given by God, received by the brothers, and shared with others.
According to Sister of Notre Dame de Namur Marilyn Kerber, director of the archdiocesan Office for Consecrated Life, there are approximately 100 brothers serving in the Archdiocese of Cincinnati. The Catholic Telegraph recognizes some of these faith-filled men and their ministries here and thanks all religious brothers for their service.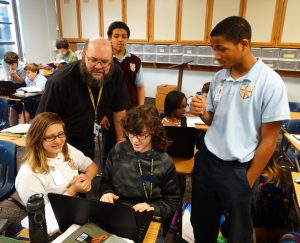 Brother Tim Cahill
Missionary of the Precious Blood Brother Tim Cahill recalled that he was once asked by a friend why he became a brother instead of priest or a married man. "To be honest, I cannot see myself being anything else but a religious brother," he said. "Looking back on my life, I see that God has been guiding me all along to become a brother. All the choices that I made led me in this direction."
A native of Youngstown, Brother Tim was drawn to educational ministry while he was still in high school and began teaching fourth grade CCD at his parish. He went on to attend Youngstown State University, followed by St. Joseph College in Renessalear, Ind., as a brother candidate with his community. He visited with a number of different orders, but said 'things just clicked and I realized this is where God wanted me to be," when he met the Missionaries of the Precious Blood.
Brother's Tim ministry has included serving as a pastoral minister at St. Augustine Parish in Minster, and teaching computer science at the former Precious Blood School (now Mother Brunner Catholic School) in Dayton. He has been teaching junior high religion at St. Peter School in Huber Heights for 19 years.
The most rewarding aspect of his ministry, said Brother Tim, is "seeing the look in the kids' eyes when they know the answer or figure out something didn't know before. I love being part of expanding their horizons and helping form them in their Catholic faith."
What would he change about his life? "Nothing!" said Brother Tim. "Being a brother is a special calling from God, and I am very happy that I heard and responded to his call."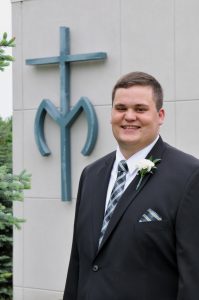 Brother Mark Motz
The University of Dayton marked Religious Brothers Day with a special blessing and reception to honor members of the Marianist community, who have served the campus for more than 160 years. Among them was Brother Mark Motz, who professed his first vows with the Society of Mary in 2013.
Brother Mark, who hails from St. John the Evangelist Parish in West Chester, first got to know the Marianists as a student at Archbishop Moeller High School. He went on to attend UD, graduating with a degree in religious studies. He appreciates the balance of faith, social justice, ministry and family present among the Marianists. "We are people from diverse backgrounds coming together at the eucharastic table and the dining room table, sharing our experiences and faith," Brother Mark said.
"When I think about my own discernment, I think of the vocation of a brother being more with people, while a priest is for people," he added. "With the Marianists, our charism really is to be brothers, but for theological and practical reasons, some of us are ordained."
His ministry has included serving at all three of the Marianist Universities and assisting at several Marianist high schools and retreat centers. He is currently involved in campus ministry at UD and pursuing a master's degree in pastoral ministry.
In his work with students, Brother Mark said, "I really like to reflect on road to Emmaus. I'm walking with the students on the road, hearing their stories, and helping them come to experience how their hearts are burning."
Brother Mark will assume a new role as vocation director for the Marianist Province of the United States on July 1. "I'm looking forward to helping others encounter God and hear His call for them," he said.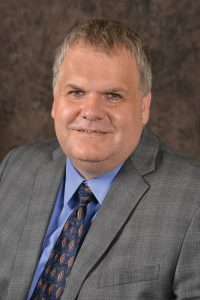 Brother Jason Muhlenkamp
Originally from Maria Stein, Glenmary Brother Jason Muhlenkamp attended the University Toledo for several years, but said he "felt a desire to serve God and other people."
His search for a way to heed God's call led to the Glenmary Farm in Lewisburg, Ky., where he coordinated student volunteers in community service. "It was there that I discerned God was calling me to join Glenmary," he said. He realized the rural and home mission aspects of the community's work strongly appealed to him, and he was inspired by his conversations with Glenmary priests and brothers.
"I like that we offer a ministry of presence," Brother Jason said. "We are missionaries of mercy and hope."
He professed his first oath in 2012, and final oath three years later. Brother Jason is currently serving in southwestern Georgia, in an area county with a 30 percent poverty rate. Early in his ministry there, his priority was "listening to the needs of the people." He then set about establishing a program that could help families pay monthly bills when their money runs short. "We offer people a hand up versus a hand out," he explained. "The goal is to help move them toward self- sufficiency. My greatest reward is seeing God working in people, seeing the change in them, seeing them find hope and keeping it."
Brother Jason also conducts a weekly Bible study with residents of the local housing projects and visits prison inmates to share Scripture readings and instruct them in the Catholic faith.
"People have asked me why I didn't go all the way and become a priest," he admitted. "I asked that same question myself when I was in discernment. I do better behind the scenes. I think being a brother is the best kept secret. It enables us to carve out our own ministries and use our gifts in a unique way."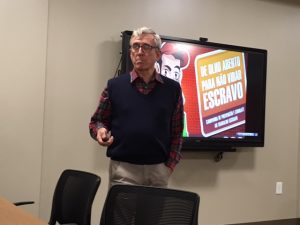 Brother Xavier Plassat
When Dominican Brother Xavier Plassat first visited Brazil more than 30 years ago, he was struck by the poverty he witnessed. By the late 1980s, he was working with the Pastoral Land Commission (CPT), coordinated by Catholic Relief Services, where he first came across forced labor through the reports of survivors. Brother Plassat learned that deep in Brazil's rural areas and in the mountains, there were people enslaving others to farm and perform other types of labor in degrading conditions.
"They were being denied their dignity and their freedom," Brother Xavier said.
At the time, he noted, Brazil didn't recognize slavery, nor were they concerned about the issue. The Brazilian government formally recognized the problem of modern day slavery in 1995. Two years later, CPT began a National Campaign Against Slave Labor, with Brother Xavier as coordinator.
Brother Plassat, and a network of volunteers, provide services to survivors, have helped with rescue operations and raids, network between various NGOs and the government, and provided vocational opportunities. They also build awareness of this issue in the labor force around the country, attempting to help laborers avoid exploitation, along with continuing to work on land reform.
Brother Xavier visited the archdiocese in late March, along with Bishop Enemésio Lazzaris, CPT president, to receive the Blessed Óscar Romero Human Rights Award from the University of Dayton. The award is presented to an individual or organization that has earned distinction for promoting the dignity of all human beings and alleviating human suffering. During his visit, Brother Xavier also shared his ministry over lunch with staff members from the archdiocesan Central Offices.
Brother Tim Sucher
Brother Tim Sucher followed a family tradition of sorts by joining the Franciscan Friars of the St. John the Baptist Province. Many of his family members were Franciscans, including a great uncle who served as a missionary priest and was a POW during World War II.
"There were always Franciscans around the house when I was growing up," said the Price Hill native and Elder High School graduate.
A Franciscan brother since 1976, he is currently the guardian of St. Francis Seraph Friary. Brother Tim studied philosophy at Duns Scotus College in Michigan, and theology at St. Leonard College and the University of Dayton. Previously, Brother Tim served as coordinator of outreach programs for two parishes in Detroit and was the house manager of St. Vincent Hotel, an overnight emergency shelter for men, women, and children in Dayton. He is currently very active in Over-the-Rhine, where he is striving to coordinate the work of the many social agencies serving the area.
Although he considered the priesthood, Brother Tim said, "I really felt God was calling me to be a brother. It fits who I am, and I've never looked back."
Developing relationships with others in whatever capacity he has served has been a huge part of Brother Tim's ministry. "God entered into a relationship by becoming one of us," he said. "Aren't we called to so the same? My relationships have colored my life, my vocation. I've learned a lot, and hopefully done some good for the people I've encountered. I know I've been enriched by them."