Investing in your child's Catholic education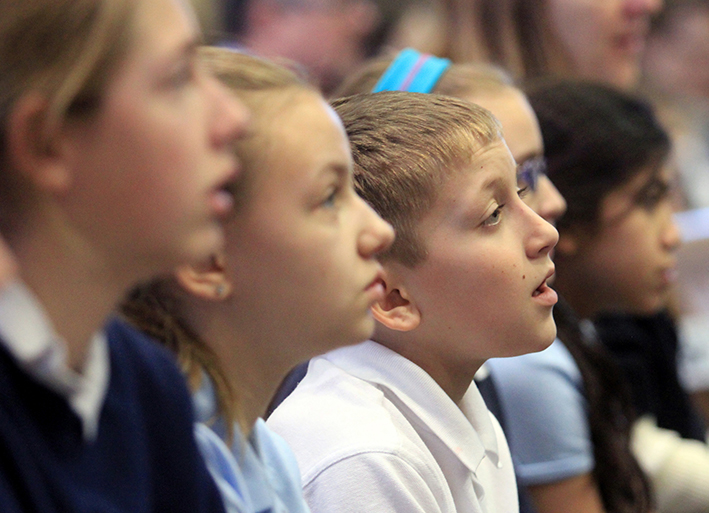 Editor's note: This is the first of two articles focusing on options for making a Catholic education affordable. Be sure to check out our February issue for more information, in addition to our Catholic Schools Week special section.
The hallmarks of a Catholic education include high academic achievement, faith-based values and dedication to serving others.
For families considering Catholic school for their children, there are more ways available than ever to make it affordable. Joshua Ater, director of school strategic planning for the archdiocesan Catholic Schools Office, acknowledges that it can be a challenge for parents to puzzle through all the options. His office is currently in the process of finalizing a guide to assist with this and the hope is to have it ready once a Spanish translation has been completed.
"We've heard from a lot of parents who prefer to provide a Catholic education for their child, but find it as complicated as seeking college financial aid to wade through all the information. We want to be as clear as possible on all the options available," Ater said. Among those options are grants from the Catholic Education Fund (CEF), made possible through the generosity of donors to the One Faith, One Hope, One Love campaign. The CEF for the Archdiocese of Cincinnati offers more than $2 million in grants each year that can be used at Catholic elementary schools recognized by the archdiocese. Awards range from $250 to $1,000 per student.
A grant will not exceed the amount of $1,000 per student with the amount determined by a financial needs assessment. (This $1,000 is an initial limit; it may increase in future years, dependent on future funds raised and changing policies of the grant program.) All K-8 grants funded by the CEF will be awarded based upon the assessed financial need of families. Need will be assessed by a third-party company, which will examine a family's income and suggest a level of need. These grants must be applied for annually. The CEF grants will not be provided to any family who already receives full tuition support from state-funded programs (the EdChoice Scholarship, the Jon Peterson Scholarship, etc.)
The application deadline for Catholic Education Foundation grants is Jan. 31, 2019. Applications may be submitted through the online third-party FACTS program at any time between November and Jan. 31. For more information and to apply, visit www.catholicbestchoice.org.