Involvement led Romanello to recognize priestly calling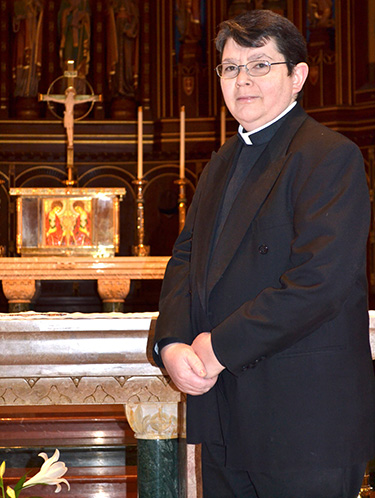 From the May 2013 print edition of The Catholic Telegraph
By John Stegeman
The Catholic Telegraph 
In the minds of many a call to the priestly vocation develops early. The image is of a young boy playing Mass in the backyard, serving at the altar through high school and jumping right into the seminary during his college years.
Increasingly, however, priests are coming from different walks of life. Deacon James "Jim" Romanello, now 49, first felt the call of the priesthood in the fifth grade at St. Matthew's, which is now part of Holy Trinity in Norwood. He is one of two men who will be ordained priests in the Archdiocese of Cincinnati this month.
One of 14 children, Deacon Romanello did not find a straight-line from youth to the priesthood. After feeling that initial call, he went on with life and later became a self-described pew warmer while studying culinary arts at Cincinnati State and spending some years in the restaurant industry.
"My pastor Msgr. Ferdinand Evans came in and he'd ask different people what they want to be when they grow up and I told him, 'I want to be a priest.' But that never went anywhere," Deacon Romanello said. "You get into high school and college and you get other ideas."
Deacon Romanello didn't finish at Cincinnati State, and later earned an associate's degree in computer network systems from ITT Tech in Norwood. He graduated from Norwood High School and he served his pastoral internship at the Church of the Incarnation.
After getting a job at Fifth-Third Bank, he was able to settle down and get involved in a parish. At Holy Trinity Parish, Deacon Romanello became an usher. He joined the Knights of Columbus and was elected to parish council. That's when he felt the call to be a priest come back, even if he wasn't ready for it. Finally, Deacon Romanello read an article in a magazine about a man in similar circumstances who was about to be ordained. He knew he couldn't resist the call any longer.
"That's when the question really started popping up again," Deacon Romanello said. "I pushed it away for about two years. God had a lot of work to do.
"One of the things that influences us is when we see someone who is like us, and who has gone through the same things," he added. "We see that they have success and that gave me confidence. He had the same experience I'm having and here he is about to be a priest. Maybe God is really calling me."
Despite deciding to enter the seminary at the age of 42, his friends and family were primarily supportive.
"Parents always want to give advice whether you want it or not," Deacon Romanello said. "Here's this time, it should be a parent's dream, where I come to them and ask them for advice and they just say, 'Well that's up to you.'"
Deacon Romanello, who loves camping and fishing, said one of the greatest challenges in today's age for a new priest is engaging the youth.
"One of the big challenges for everyone, especially the priests today, is relating to the youth because they are so connected," he said. "There's a challenge in trying to teach them that the device they have connected to their head is not everything."
On top of reaching youth, Deacon Romanello believes that priests will need to adapt to face a world with less of them available to serve the needs of the faithful.
"You need priests, there's no getting around that," Romanello said. "Priests are going to have to be more flexible and be ready to do what's being asked of us. Every age has had their own struggles, things like this that challenge them. It is up to us to be flexible enough to say 'What do we have to do to meet the needs now? Whatever it takes.'"
Deacon Romanello and fellow seminarian Deacon Jerome Bishop will be ordained Saturday, May 18 by Archbishop Dennis M. Schnurr at the Cathedral of St. Peter in Chains.