Is Planned Parenthood 'aborting' babies after birth?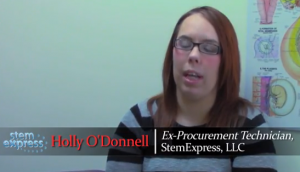 By Matt Hadro & Adelaide Mena CNA/EWTN News
Warning: this article contains graphic content. Reader discretion is advised.
A new video in an investigative series on Planned Parenthood shows a former technician saying that she had once been traumatized by the experience of gathering tissue from an aborted baby whose heart was still beating.
Holly O'Donnell, former technician for the biotech company StemExpress, LLC, said that after the intact delivery of "the most gestated fetus and closest thing to a baby that I've seen," a clinic worker called for her to come over and see something "kind of cool."
"She just taps the heart, and it starts beating," O'Donnell said in the video released by the Center for Medical Progress.
"I'm sitting here and I'm looking at this fetus, and its heart is beating, and I don't know what to think," she said. "I don't know if that constitutes it's technically dead, or it's alive."
After seeing the fetus, O'Donnell said she was handed scissors "to cut down the middle of the face" in order to obtain brain tissue for medical research. "I can't even describe what that feels like," she said.
Dr. Ben Van Handel of Novogenix Laboratories, LLC, said in the video that "there are times when after the procedure [abortion] is done, that the heart actually is still beating."
The accusation that Planned Parenthood has been harvesting organs of babies born before an abortion procedure is part of an ongoing legal controversy between the abortion giant and citizen journalist group Center for Medical Progress.
In July, StemExpress sought an injunction to block the release of a video "where their leadership admitted that they sometimes get fully intact fetuses shipped to their laboratory from the abortion clinics they work with," said David Daleiden, project lead for Center for Medical Progress, in a July 31 interview with CNN.
"That could be prima facie evidence of born alive infants," he said.
While the temporary restraining order was initially granted, a California judge later stated that it was unlikely that a preliminary injunction would be granted. StemExpress severed its ties with Planned Parenthood last week.
According to the Born-Alive Infants Protection Act of 2002, a baby "born alive" is one who "breathes or has a beating heart." Under the law, infants born alive or those who survive botched abortion attempts must be granted the same protection and treatment that any other newborn baby is entitled to under federal law.
Daleiden, discussing fully intact fetuses and tissue procurement on CNN Aug. 4, said that any feticide or fatal drug like digoxin that is administered before an abortion procedure would adversely disrupt the tissue extraction process since it "poisons" the fetal tissue. Thus harvesters who obtain a "fully-intact" baby from an abortion did so from an abortion procedure performed after a live birth, he claimed.
The Aug. 19 video claims evidence of "fully-intact" babies delivered to harvesters. Perrin Larton, a procurement manager for a company called Advanced Bioscience Resources, described in the video how women would sometimes give birth before an abortion procedure could be performed.
"I literally have had women come in, and they'll go in the O.R. and they're back out in three minutes," she said, adding that "the fetus was already in the vaginal canal whenever we put her [the mother] in the stirrups, it just fell out."
Larton also described how "they induce fetal demise at about 18 to 20 weeks," but when asked if the babies were administered digoxin she replied "no, no, no, no, no."
In addition, O'Donnell said she had witnessed correspondence between a doctor and worker that a "fully-intact fetus" had been procured and they "were sending it straight to the lab."
In a previous video released by the Center for Medical Progress, one Planned Parenthood doctor said that mothers sometimes give birth before an abortion can be performed.
"Sometimes, if we get, if someone delivers before we get to see them for a procedure, then we are intact, but that's not what we go for. We try for that to not happen," Dr. Savita Ginde, vice president and medical director of Planned Parenthood of the Rocky Mountains, said in an undercover video released July 30, of providing tissue procurement companies with "intact" body parts of aborted babies.
CNA reached out to Planned Parenthood for comment on the Aug. 19 video, but did not receive a response.
O'Donnell said that the experience of seeing and dissecting a developed fetus with a beating heart shook her. After transferring the baby's brain and body for research transport and disposal, she said "that was the moment I knew I couldn't work for the company anymore."
She said that she held the fetus afterwards in her hands. "It's pretty hard knowing you're the only person who's ever going to hold that baby," she reflected.
The Aug. 19 video is the seventh released by the Center for Medical Progress. Previous undercover videos show Planned Parenthood and medical procurement officials discussing the collection and transfer of body parts from aborted fetuses, compensation and itemization of the parts, and possible alteration of abortion procedures to obtain more intact specimens.
The videos have sparked investigation and calls for the removal of funding from Planned Parenthood from both congressional and state legislators and officials. The organization receives more than $500 million a year from the federal government.
Planned Parenthood maintains that it has been acting within federal law, and that any donation of fetal organs of aborted babies are made with the mother's consent and are not done for "valuable consideration."
Posted August 20, 2015