Chaminade Julienne announces plans for home football stadium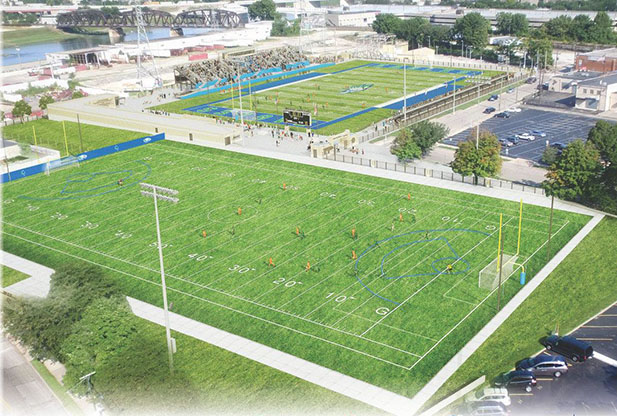 Staff Report
The 2015 high school football season will be Chaminade Julienne's last "on the road."
Wednesday evening before a crowd of hundreds the school announced plans to construct Roger Glass Stadium, a multi­purpose competition venue to be located at the corner of Longworth and Eaker Streets. The facility will serve as home to the Eagles varsity football team.
The Dayton school's football history goes back to 1927 as Chaminade High School and in the nearly 90 years since, the Eagles have never had a true home game. In recent years, CJ has played its home games at Huber Heights Wayne High School, nearly 10 miles away. 
Glass, who made a "lead gift" towards the project, was present for the announcement.
"When I was a student here, we would hold band practices at the Sears parking lot across town and the football team would practice in fields and parks across the river," he said. "I now realize the additional time that our parents had to spend in affording us the opportunity to be part of a team. Our sense of community and school spirit was always strong, but we never had that feeling of ownership of the place, of being able to open up our own home to others. Now we will be able to provide that sense of welcome so true of CJ."
The stadium will seat 2,150 with two ticket booth gateways to accommodate capacity crowds, and a 99,600 sq. ft. field large enough to host professional soccer games in addition to football and lacrosse competitions.
"As a Catholic school sponsored by the Marianists and Sisters of Notre Dame de Namur, our primary objective for this facility was to invest in a place that would expand growth and leadership opportunities for young people from every corner of the region," said Dan Meixner, CJ president. "Ever since we developed what is now Blue Green Field in 2008, many of our community members have imagined a stadium in its place. Because of tremendous support, it is exciting to now make that dream a reality. This is something special."
In addition to the stadium, the west campus development will include an exterior concourse leading to the main gateway, a plaza for community events, and an 80,600 sq. ft. practice field adjacent to the stadium. Both fields will eliminate travel time to off-­site practices and home games.
The announcement for the west campus project was made shortly after the ribbon-­cutting of the school's Building One. Renovations to that building were announced in January as part of the school's  LIFT campaign. The $20 million initiative also produced the CJ STEMM Center in 2013, a remodeled gym in 2014, and Eagle Tennis Center in 2011, the school's first outdoor competition venue. Shook Construction is serving as the general contractor for the project while MSA Sport, the official architect of the Cincinnati Reds, is serving as the design and architect team.
The stadium is scheduled to be complete by fall 2016.
Chaminade Julienne High School contributed to this report
Posted August 20, 2015