Throwback Thursday: Archbishop installs neighboring bishop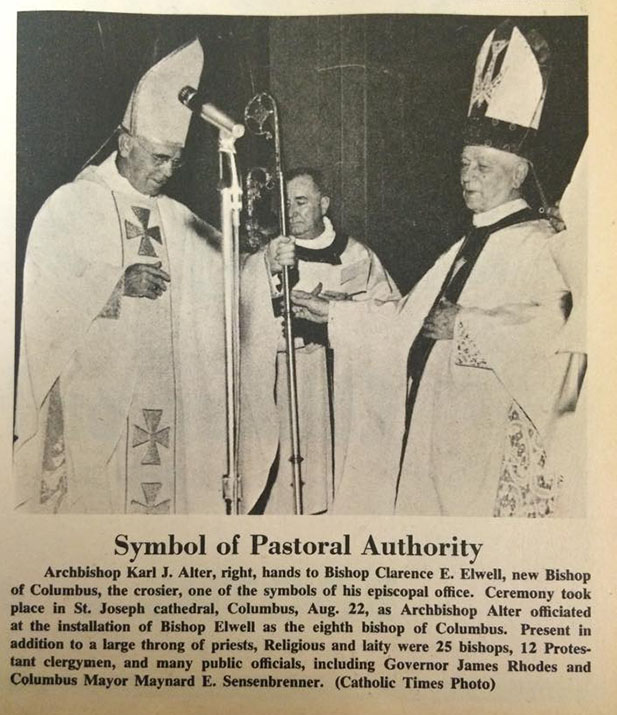 Staff Report
The installation of a bishop is a major event for a diocese and often for the city where the bishop's seat is located. Such was the case in Columbus, Ohio on Aug. 22, 1968 when Arhbishop Karl J. Alter of Cincinnati installed Bishop Clarence E. Elwell as the eighth Bishop of Columbus.
In the accompanying photo, Archbishop Alter presents Bishop Elwell with his crosier, one of the symbols of the episcopal office. Archbishop Alter was the principal celebrant but 25 other bishops were on hand for the occasion. The installation also brought out 12 Protestant ministers and important public officials such as Ohio Governor James Rhodes and Columbus Mayor Maynard Sensenbrenner.
Bishop Elwell's installation, which occurred 47 years ago Saturday, led to a five-year reign that ended with his death in 1973.
The Diocese of Columbus — as well as the dioceses of Cleveland, Youngstown, Steubenville and Toledo — is part of the Ecclesiastical Province of Cincinnati. It was erected out of territory belonging to the Archdiocese of Cincinnati March 3, 1868.
Columbus and the other dioceses of the Ecclesiastical Province of Cincinnati are "suffragan sees" to Cincinnati. Though each is governed by its own bishop, the archbishop of Cincinnati as metropolitan has certain rights and responsibilities. Learn more about this unique relationship HERE.
The Diocese of Columbus and the Diocese of Toledo are also neighboring dioceses to Cincinnati, sharing borders to the east and north respectively.
Though the picture appeared in The Catholic Telegraph's Aug. 29, 1968 edition, the photo was taken by the Catholic Times, the diocesan newspaper for Columbus.
Welcome to The Catholic Telegraph's edition of Throwback Thursday. Throwback Thursday is a weekly online activity wherein users of social media share an old photo or anecdote about times gone by. We use Throwback Thursday to highlight the history of the Archdiocese of Cincinnati, and our publication.
Recent Throwback Thursdays
Cutting edge tech in Catholic school in 1962
Remembering the Ice Bucket Challenge
Remember your religious obligation
Cincinnati an archdiocese for 165 years
Updating an Iconic Chapel
Posted August 20, 2015