McDonald's Filet-o-Fish history tied to Cincinnati Catholics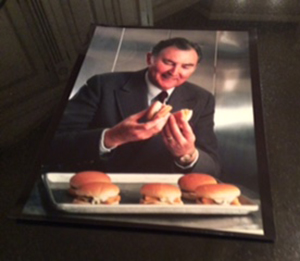 Staff Report
Lent is a penitential season for Catholics preparing to mark the observance of Christ's death on the cross, and on Easter his resurrection from the dead. For business owners, Lent is just part of the first financial quarter.
For today's Throwback Thursday, we go back to the late-1950s when Lou Groen, a Catholic, was a McDonalds' franchisee in the Cincinnati area. His store, located on North Bend Road, had poor sales on Fridays as the local population was predominantly Catholic, and at that time Catholics abstained from meat on all Fridays of the year, not just during Lent.
Sensing the need to do something to continue operating, Groen came up with a halibut fish sandwich around 1962. The sandwich, and it's more famous successor the Filet-o-Fish, were among the first additions to McDonalds' original 10 item menu.
McDonalds' Filet-o-Fish is good, but Catholics can support their local parishes by attending Fish Frys on Fridays during Lent. Click HERE for the 2022 Fish Fry guide.
Harry Groen, one of Lou's sons, is a parishioner at St. Dominic church in Delhi. The younger Groen was a student at Elder High School and worked in the restaurant.

"I did everything," Harry said. "I was a manager, a crew person. I was intimately familiar with the fish sandwich. In fact, I helped to set it up and make it when we introduced it."
The Groen family is still in the Filet-o-Fish business. Harry's brother Paul Groen operates 14 McDonalds' franchises in Northern Kentucky. Of the 14 his son Grant and daughter Erica own three, putting three generations of Groens in the McDonald's business.
Lou Groen, who was a parishioner at Our Lady of Lourdes when he created the sandwich, died in 2011 but his story has been told in many places.
As detailed in a 1992 article in The Catholic Telegraph (see image at right), Groen met resistance from McDonalds' founder Ray Kroc. Though not described in the article at right, Kroc was pushing his own meatless burger. Called the Hula Burger, it was a deep fried pineapple slice on a bun.
In a friendly competition, the fish sandwich outsold the Hula Burger and the Filet-O-Fish sandwich, with humble origins from Cincinnati, Ohio, is now known across the planet.
Harry and Paul Groen both said the original fish sandwich created by their father was made from halibut. Additionally, it included two pieces of fish, much like the Frisch's Big Boy fish sandwich.
"It sold like hotcakes," Harry Groen said. "Every Friday we had to prepare it ahead of time and in the summer when I was not in school I'd stay there on a Thursday night all night preparing the sandwiches for final sale on Fridays. It was quite a production."
The rising cost of halibut caused McDonalds to seek a less expensive alternative. Lou Groen went back to the drawing board and came up with the Filet-o-Fish. Since 1963, the sandwich has remained largely as it is known today.
"He developed both sandwiches," Paul Groen said. "He really had both of the sandwiches on the menu in Cincinnati. He introduced the sandwich you see at McDonalds' today in 1963… We had (the original) on the menu from about 63 to 68 and McDonalds made us stop selling the sandwich in part because of the rising costs."
Welcome to The Catholic Telegraph's edition of Throwback Thursday. Throwback Thursday is a weekly online feature wherein users of social media share an old photo or anecdote about times gone by. We use Throwback Thursday to highlight the history of the Archdiocese of Cincinnati, and our publication.
This Throwback Thursday first ran in 2015.