Jerusalem patriarch calls for end to violence in Holy Land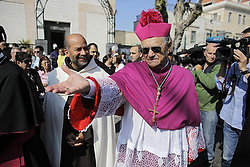 By Judith Sudilovsky Catholic News Service 
JERUSALEM (CNS) — After an early morning synagogue attack left four Israelis dead and eight injured Nov. 18, Latin Patriarch Fouad Twal called for an end to all violence in the Holy Land.
"We are praying and waiting. We are sad," said Patriarch Twal. "We must, all people of responsibility, politicians and religious leaders, do our best in our positions to condemn this violence and avoid as much as possible the causes which lead other people to violence."
The attack occurred in the Har Nof neighborhood of West Jerusalem, which is popular with the Anglo-Orthodox Jewish community. Three of the dead had dual Israeli-American citizenship; one had Israeli-British citizenship.
The two perpetrators of the attacks, Palestinian cousins from East Jerusalem, were killed at the scene by Israeli police.
"Violence leads to more violence," Patriarch Twal told Catholic News Service. He said he sent condolences to the families of all the victims of the recent wave of violence that has rocked Jerusalem as Israel moves toward expanding Jewish settlements in the area and Palestinians fear a Jewish presence on the shared holy site of the Temple Mount/Haram al-Sharif, in Jerusalem's Old City.
According to a tenuous and contested status quo agreement, Jews are allowed to visit the site where, according to Jewish tradition, the Biblical Jewish temple stood and, but they are not allowed to pray there. According to Muslim tradition, it is the site where Muhammad ascended into heaven.
A day prior to the synagogue attack a Palestinian bus driver who worked for an Israeli cooperative was found hung in his bus at the terminal. Israeli police called the death a suicide after a medical investigation, but the man's family and the Palestinian media maintain that it was a lynching. Some have said the synagogue killings were in retaliation for his death.
"You can't occupy and then think people (will be quiet)," Patriarch Twal said, referring to Israel occupation of Palestinian lands. "We are against any kind of violence either from a state group or private groups."
"We are in a very bad situation and condemn the violence and assure the families who have lost loved ones of our prayers," he added. "It is very sad."
The Council of Religious Institutions of the Holy Land expressed "shock and horror" at the attack, calling it "horrendous."
"Such murderous deeds, especially in a house of worship, are the ultimate abuse of religion," said a statement from the council, which represents Israel's chief rabbinate, the Palestinian Authority Shariah courts, and local Christian leaders. "We call on all religious political and civic leaders to do their utmost to prevent the local political conflict from being turned into a religious war, the consequences of which will be disastrous for all."
The Rev. Olav Fykse Tveit, World Council of Churches general secretary, expressed concern and sadness over the attack.
"There is a particular horror in any such attack which takes place at a place of worship. I condemn this violence unequivocally, as I do all violence between the peoples and communities of this region which has seen so much bloodshed in the name of religion," he said. "Violence, collective punishments and communal attacks can only further damage the prospects of peace and justice for all."
Israelis were shocked by the attack on the worshippers, killed while wrapped in prayers shawls as they took part in the daily morning prayers at the popular neighborhood synagogue.
In past weeks the Temple Mount/Haram al-Sharif has been sight of bloody confrontations between Israeli police and Palestinians, and synagogues and mosques have been vandalized.
Over recent weeks several Palestinians have been killed and injured in demonstrations in East Jerusalem, and several Israelis been killed and injured in attacks by Palestinians in the Jerusalem area and Tel Aviv.
Patriarch Twal said Jerusalem is a city of peace, not violence.
He said the recent attacks have shown that the walls built as a security barrier to separate the West Bank do not protect anyone from violence as long as there is occupation and injustice.
"There is no protection with walls. Only dignity and justice for all (will bring security,)" he said. "All this violence took place within the walls. We need more justice and comprehension."
Patriarch Twal noted that Christians in the Holy Land were preparing to celebrate Christmas and expressed concern that pilgrims would be afraid to come because of the violence.
"We hope that by Christmastime there will be no more revenge and no more killings," he said. He asked for prayers for the peace of Jerusalem, the Holy Land and all its inhabitants, so Jerusalem could return to its vocation as the city of peace.