Keeping it cool with a Pope Francis 'popesicle'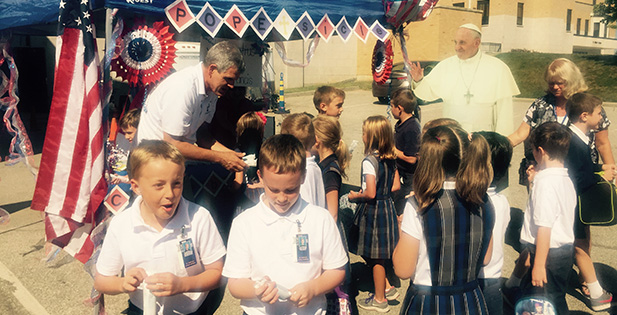 Staff Report
Just days before more than 60 members of the school faculty and staff headed to Philadelphia to celebrate Pope Francis' journey to the United States, students at St. Ignatius were treated to a "Popesicle" celebration during recess.
The popsicles weren't shaped like the pope, but rather were used as an occasion to celebrate the important visit of Pope Francis. In photos sent to The Catholic Telegraph students show their excitement for the frozen treats and some take photos with a cutout of the pope.
See comprehensive coverage of last week's papal journey at our Pope Central page.
The school had been following the Holy Father's visit all week. Students made "Flat Francis" cards with prayer intentions and prayed with classmates and families as well.
"We wanted to celebrate with our students before making our pilgrimage, not only to signify the importance of the event, but to demonstrate that it is a joyous occasion for all of us," said Tim Reilly, principal of St. Ignatius School.
Posted Sept. 30, 2015