Kouche & Schulte McNicholas Teens Offer Time & Talents for Others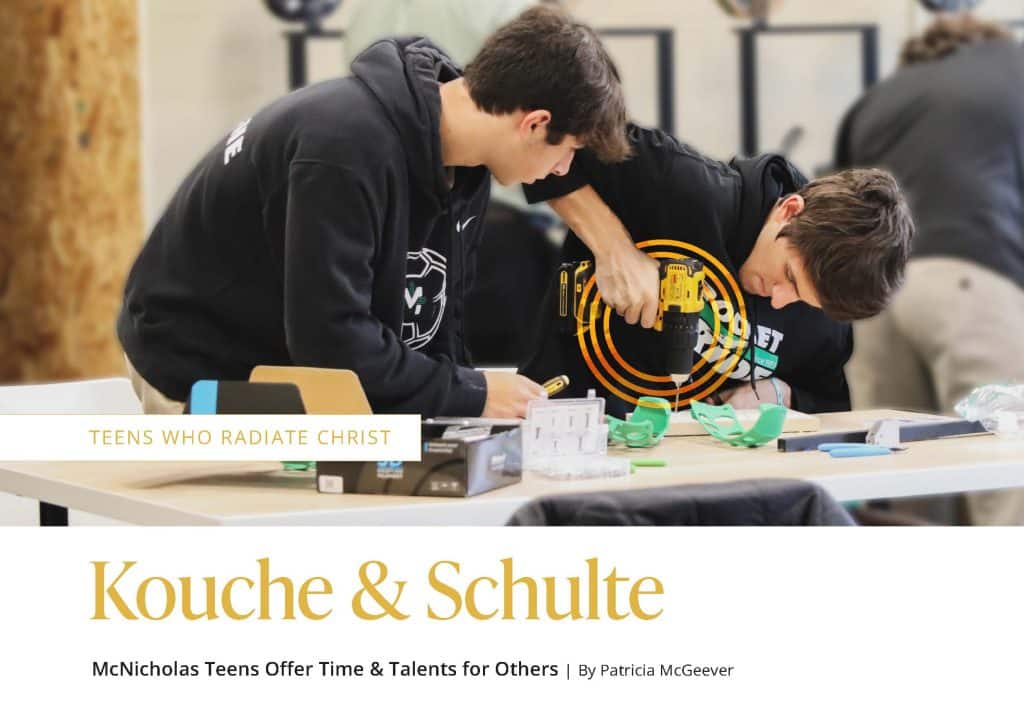 by Patricia McGeever
This past Christmas, 10-year-old Colton Forsee's life changed. A special present under the tree made it possible for him to do what other children his age get to do: ride a bike.
"He immediately got on the bike in the living room and rode it down the hallway," said his mom, Kelly. "It was just the most incredible experience. He was so excited."
Because Colton has cerebral palsy, his right side is weaker than his left, so that, as hard as he tried, he couldn't properly pump the pedals on a regular bike. His parents considered several options without success—until Kelly called May We Help, a nonprofit composed of volunteer engineers, designers and others who build custom devices for people with special needs. The family was paired with a high school engineering student group at McNicholas High School in Cincinnati. Their job: Develop a solution—and they did!
"One of his feet would slip off the pedals, so we modified a bike so that his foot would stay on it," said senior Nate Kouche.
The students bought a bike, added bigger wheels on the sides as stabilizers, then attached adult-sized Crocs to the pedals. Colton's feet, shoes and all, fit inside the Crocs, and the Croc's heel strap prevents his right foot from slipping. Now, his mom sends videos to the students to show how well their solution is working.
"It's amazing," said Kouche. "It's really satisfying to know that the work that I've done is directly impacting people's lives."
Kouche was introduced to May We Help in his Introduction to Engineering class at McNicholas, when his semester's class created a device to help kids in wheelchairs grab baseballs off the ground.
"We realized this is something we want to maybe do for a job," said Kouche. "So outside of the class we kept working with May We Help, and we've done a couple other projects with them."
Kouche and his classmates are not alone at McNicholas in helping others. All seniors complete a service project and presentation on their work before they graduate. Kaitlyn Schulte and some friends have been visiting residents at Anthology Senior Living monthly.
"In our religion class we talk about Catholic Social Teachings, so we focused on community and life and dignity of the human person," said Schulte. "We picked the elderly because we felt, ever since COVID, there was a lot of loneliness and total isolation for them, and it was really depressing. We felt like things haven't gotten back to normal."
They fed residents a Thanksgiving meal, made gingerbread houses with them and passed out Valentines and candy. Karaoke was also a popular event during an afternoon happy hour.
"The acts that we were doing were really small things but you could just tell how huge it was for them," said Schulte. "The other day when we were leaving, they just kept saying 'Thank you so much.' We also got a few letters back from our Valentine's notes. They were really sweet and really grateful."
The senior projects are a win-win for both the students and those they serve.
"I think it taught me empathy," said Schulte. "I'm always surrounded by so many people—I can't imagine what it would be like to feel alone all the time."
This article appeared in the May 2023 edition of The Catholic Telegraph Magazine. For your complimentary subscription, click here.