La Salle issues press release on deceased student, suspect in custody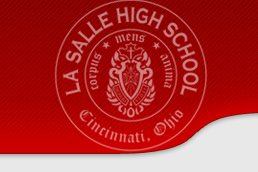 La Salle High School has sent out a press release on the death of student Justin Brown. Brown was shot in the head late Sunday evening and died Monday from his injuries.
Police have arrested a suspect, 19-year-old Dierres Lee, and charged him with murder. WXIX and other area media reports claim that the shooting took place after a drug transaction to purchase marijuana at the 1700 block of Carll Street.
The full text of La Salle's press release is below.
La Salle High School is mourning the loss of senior Justin Brown, who passed away on Monday.

"We hold our students and their parents and families in the highest regard, and our hearts and prayers go out to the Brown family," said Principal Tom Luebbe. "In sad times such as these, we come together as a community in support and, at the same time, we want to respect the privacy of Justin's family."

La Salle held a mass after school earlier today, with students from La Salle and other Catholic schools in the area in attendance.

The De La Salle Chapel is open for private prayer, and counselors are available for students until 7 p.m. on Monday as well as additional counseling resources for the remainder of the week and beyond. "We are sensitive to the needs of our students and their families and will provide resources as necessary to deal with the grief surrounding this tragic incident," said Chris Winiarski, Director of Campus Ministry.

La Salle is located at 3091 North Bend Road in Green Township and has served students from Greater Cincinnati since 1960. 

La Salle High School is an all-male college preparatory Catholic institution guided by Jesus Christ and rooted in the teachings of St. John Baptist de La Salle. In partnership with parents, La Salle educates young men of all backgrounds, encouraging each student to reach his maximum potential: mind, body, and spirit. La Salle strives to develop every student into a servant leader, equipped with the experience and confidence to lead ethically in a 21st century environment.