Follow us on Twitter: Live tweeting Pope Benedict XVI's final audience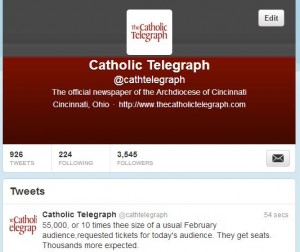 The Catholic Telegraph
The Catholic Telegraph may not be in Rome, but we're awake (at 4 a.m.) and watching Pope Benedict XVI's final Wednesday general audience on EWTN.
Tune in to EWTN, or the Vatican's site for live streaming of the event. Or, just follow us on Twitter where reporter John Stegeman will give updates from both the EWTN and Vatican Video feeds.
Stay tuned to the The Catholic Telegraph's website for constant coverage of Pope Benedict XVI's resignation, the interregnum, and the upcoming conclave to elect a new Holy Father.