La Salle Upperclassmen Coordinating with Matthew 25 Ministries to Serve the Less Fortunate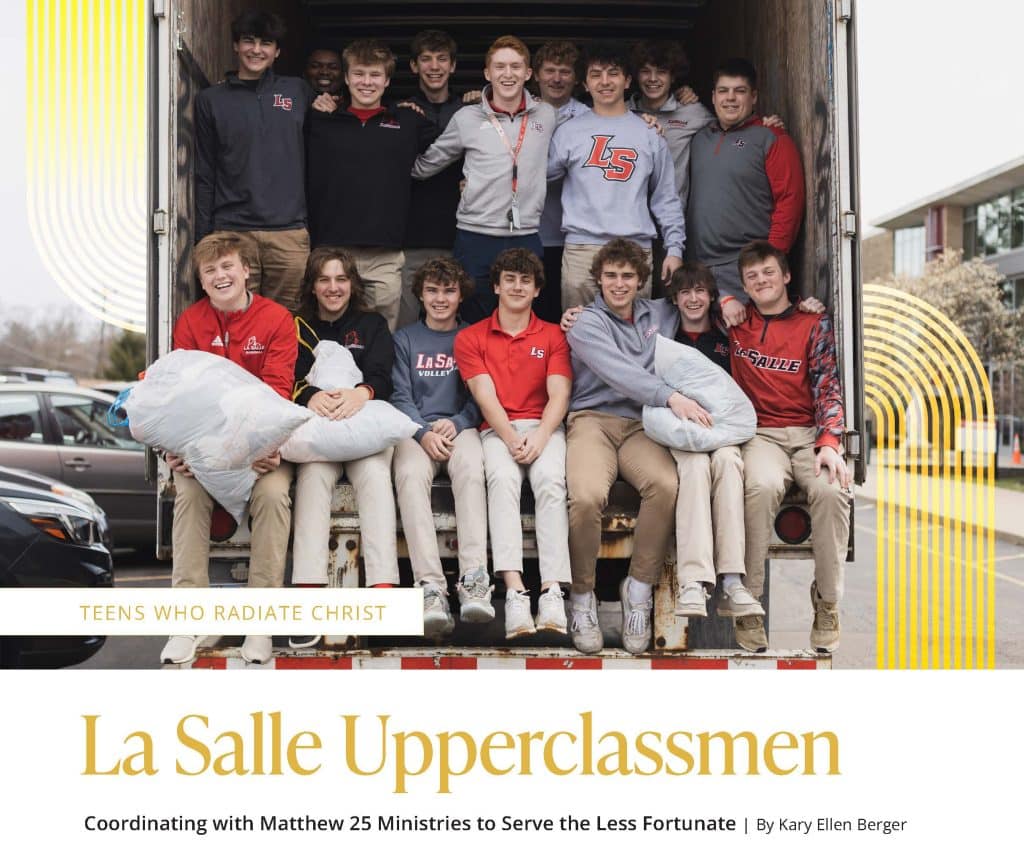 Did any good come out of out of the COVID-19 pandemic? From shutdowns to self-distancing, many argue there wasn't much to be cheerful about during its height. However, rather than focus on the negatives happening in 2020, then-juniors at La Salle High School in Cincinnati created a positive initiative—a clothing drive with Matthew 25 Ministries.
Benjamin Jungkunz, a current senior at La Salle and member of St. James the Greater Church in White Oak, shared that, "At the time, many service opportunities were taken away from those looking to help others. This sparked an idea from juniors who [wanted to] make a difference in a time of need. They brought the idea of a clothing drive to our campus ministry team." This was continued last school year (2021-2022) and again this school year.
Leading the project this year, current seniors held and organized the third annual clothing drive this past March, receiving clothing, bed linens and gently used shoes. Collections were donated to Matthew 25 Ministries, where they are sorted then distributed, both in the U.S. and around the world. La Salle students also hold a canned food drive each fall.
"It gives a great feeling knowing our efforts are going to help the less fortunate," said Charlie Etris, LaSalle senior and St. James the Greater parishioner.
The clothing drive's creators, now freshmen in college, laid the path so current La Salle upperclassmen could expand and grow the ministry—one the current seniors hope will continue for many years. This year's juniors shadowed the seniors' efforts to ensure next year's event will be as successful.
"Holding another clothing drive this year was important to us because we wanted to continue what last year's seniors started [as juniors]," said Jungkunz. "In order for our clothing drive to prosper and grow into a yearly tradition, the first few years are crucial. And if we were to slack off or not do it all this year, then it may never start again."
Etris echoed this sentiment, "Our clothing drive is a great effort put on by students, and we love seeing our community come together to our truck with clothes to donate!"
"It is very humbling for sure," agreed Gabriel Logan, senior and St. Antoninus parishioner. "We get to help people in need and those who are less fortunate than us. It is amazing that a group of high schoolers can put on such a successful event, but that is what is expected here at La Salle. We are expected to go above and beyond for our Lasallian community and to help those who need it."
This article appeared in the May 2023 edition of The Catholic Telegraph Magazine. For your complimentary subscription, click here.