Lauren Hill issues challenge to support DIPG research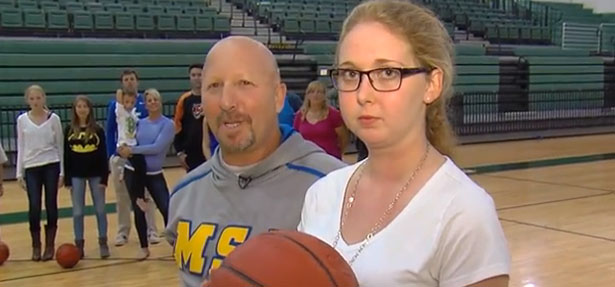 By John Stegeman
The Catholic Telegraph 
Lauren Hill, the Mount St. Joseph University freshman dying of Diffuse Intrinsic Pontine Glioma (DIPG), has issued a challenge to the world to help raise funds for the rare form of brain cancer that is killing her.
(See video of the challenge below)
Update: Dehil Township, where Mount St. Joseph University is located, has declared Nov. 2 "Lauren Hill Day." Residents are urged to show their support for Lauren by coming out to to Delhi Pike to watch the MSJ caravan and escort go by en route to the Cintas Center. Learn more HERE.
Hill will play her first, and potentially only, collegiate basketball game when Hiram College travels to take on Mount St. Joseph at the Cintas Center at Xavier University. Mount St. Joseph is a Catholic university located in Delhi, Ohio. Proceeds from the game will benefit DIPG research through The Cure Starts Now Foundation.
Learn more about Lauren Hill or donate HERE.
The Cure Starts Now is a seven-year old charity based in Cincinnati. The charity was founded by husband and wife Keith and Brooke Desserich after their daughter, Elena, died of the same cancer at age six. DIPG usually strikes children between the ages of four and seven. Few live past age nine and the American Cancer Society reports survival is typically less than one year from diagnosis.
Keith Desserich and his staff have been busy in recent days with all the attention, but he is happy to see DIPG get its voice in Lauren Hill.
"I was frustrated that these children had no voice," Desserich said. "All the sudden I started getting these emails from Lisa (Hill, Lauren's mother) saying, 'Lauren wants to do something. What can she do?…' The next thing I know she went and ran with it.
"In Lauren's words, she wants to refocus it on research," he added. "The game is nice. The attention is fine and wonderful but the only reason she's doing this is because she wants to fund more research. And that's where we come in."
The Challenge
Because the cancer that is killing her causes dizziness and has forced her to use her non-dominant hand to shoot the ball, the challenge mimics those symptoms.
"You have to spin around five times and shoot with your non-dominant hand," MSJ women's basketball coach Dan Benjamin said in the video. "If you make it, you get to pass it on. If you miss it, it's a $10 donation for the cure starts now."
In the video, Hill makes a layup on the third try after helping to issue the challenge. The challenge is being promoted on Twitter with the hashtag #Layup4Lauren. Benjamin challenged a bevy of famous people to take the challenge and already Cincinnati Bengals quarterback Andy Dalton and offensive lineman Andrew Whitworth, as well as the first female coach in the NBA Becky Hammon, have taken it.
"DIPG has taken away too many lives," she said. "But now with your help you can do Layup for Lauren's challenge."
Through The Cure Starts Now, proceeds from the game will go to the DIPG Registry, which is a collection of MRI and genetic data.
The Cancer
Diffuse intrinsic pontine glioma is a type of brain tumor found in the pons, part of the brainstem on the lower back of the brain, near the top of the spinal cord.
According to the DIPG Registry, the cause is still unknown and fewer than 10%, of those diagnosed, usually young children, live for more than two years. DIPGregistry.org reports that symptoms include "double vision, difficulty controlling eye and eyelid movement and facial expression, and difficulty chewing and swallowing. Pressure on other nerves may cause weakness in the arms and the legs and difficulty speaking and walking."
The Cure Starts Now
Desserich, himself a Catholic, told The Catholic Telegraph that The Cure Starts Now doesn't fund embryonic stem cell research, which is typically seen as a treatment to replace cells. The Cure Starts Now's work, and most brain cancer research, is focused more on simply killing cancer cells so embryonic stem cells aren't a viable line of research.
Some stem cells are extracted from the cancerous tissue of living patients for the sake of research, but no embryonic stem cells are involved in The Cure Starts Now Foundation-funded research, Desserich said.
DIPG research is limited because not many charities focus on it. Desserich said The Cure Starts Now may be responsible for as much as half of all DIPG research. Curing DIPG, however, is bigger than just eradicating one type of cancer.
"We not only fund research in Cincinnati, but we fund research in Australia, the United Kingdom, you name it. We're funding a study in the Netherlands right now," he said. "They believe at its heart, that DIPG research is the home run cure for all cancers. Experts out there believe if we focus on these types of cancers, it will teach us new ways of focusing on all cancers in the hope that we can eliminate it…We're focusing on the home run strategy."
With a zero percent survival rate and a target demographic of children, DIPG is a tragic cancer and little progress has been made. Desserich said his charity is one of the world's fastest growing because it is a family.
"In the purest sense, this is a group of families," he said. "The Cure Starts Now has 27 chapters around the world. We are one of the fastest growing cancer charities out there. We are just a bunch of parents that got tired of no progress."
Learn more about The Cure Starts Now Foundation HERE.
As for Hill, the Indiana-native continues to do interviews to help raise awareness and funds for research as the Nov. 2 game day approaches. The Cure Starts Now Foundation provided statements from Hill answering various questions to help reduce her interview load. In one answer, she discussed why she is working to help others even as her time runs down.
"When I found out that I was one of the older kids with this type of cancer, I just wanted to bring awareness to DIPG and be the voice for the younger kids who cannot articulate as well as a young adult," Hill said. "No child or family should have to hear there is no cure and there is no real treatment to help battle this tumor… I just want to do my part to help spread awareness to find better treatments so one day no one has to hear the words, 'At best, your child has two years to live.'"
Posted Oct. 28, 2014