Playoff glance and week 9 standings for archdiocese Catholic HS football teams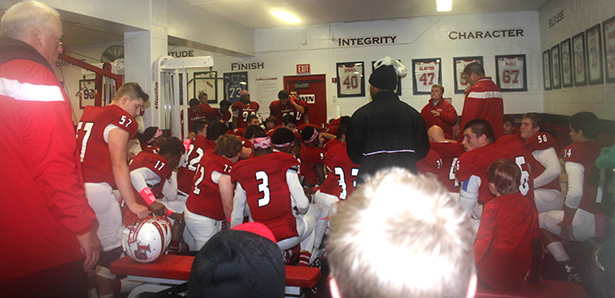 Staff Report
On a cold, wet night better known for trick-or-treat, the regular high school football season will come to an end. For most seniors statewide, tonight is the last game. For many, the playoff beckon and for others, tonight is a must win to continue their prep careers.
GCL South co-champs St. Xavier lead the Division I Region 2 standings and have clinched a home playoff contest making tonight's game against Louisville St. Xavier more of a showcase than a must-win. Fellow champions Archbishop Moeller, sitting at No. 9 (12 make the playoffs in Division I regions), are also a lock for the playoffs. Elder however remains firmly on the bubble, but in control of its own destiny. If the Panthers beat LaSalle tonight, they're in. If they lose, they'll need help.
LaSalle needs to top Elder tonight to earn a share of the GCL South title, but the Lancers have already earned a home playoff game. Tonight's showdown at the Pit is likely to be the game to watch for the west side of Cincinnati.
Alter locked up the GCL Co-Ed North Division title with a win over Carroll last week and the Knights are No. 1 in Division 4 Region 14. The Knights are also the only Catholic high school in the archdiocese with a chance at an undefeated regular season record.
A home game is already a guarantee for the Knights but a league matchup against Chaminade Julienne will be no easy task. The Eagles are still mathematically in playoff contention but they need a win tonight and some help.
Fenwick is the GCL North's bubble team. The Falcons sit No. 8 in the region but even a win over Carroll doesn't guarantee a berth with a pair of public school teams hot on their heals. Carroll is out of contention.
McNicholas is locked in with a playoff berth and a share of the GCL Central title, but the Rockets are sure to be focused on week 10 tonight against Badin. The Rams control their own playoff destiny in Division 5 Region 18, but a win over McNicholas would also give Badin a share of the GCL Central championship. A Rockets win makes them outright champs. Even with a loss the Rams could sneak into the playoffs in Division 5.
Roger Bacon and Purcell Marian are both out of contention.
In Division 6 Region 22, Summit Country Day remains alive but the Knights week 10 opponent doesn't offer a chance for many playoff points. Currently No. 10 (eight make playoffs) Summit needs a win and at least a couple losses by teams above them.
Lehman Catholic has locked in a home game for the playoffs but the Cavaliers are playing for sole possession of the Northwest Central Football conference title. Lehman has a share of the title already, but a Cavs loss to Upper Scioto Valley and a win by Fort Loramie over Riverside would make the two co-champs.
Catholic Central is out of contention for the playoffs, but the Irish are are still looking for their first win of the season.
Here are the standings through week nine with week 10 opponents listed.
Team                                  Week 9 Record                Week 10 opponent
GCL Co-Ed Standings
North
Alter                                        9-0 (6-0)                   Chaminade Julienne (5-4)
Fenwick                                  5-4 (4-2)                   at Carroll (2-6)
Chaminade Julienne                 5-4 (3-3)                    at Alter (9-0)
Carroll                                     2-7 (0-8)                   Fenwick (5-4)
Central
McNicholas                              8-1 (5-1)                  at Badin (7-2)
Badin                                      7-2 (4-2)                  McNicholas (8-1)
Purcell Marian                         3-6 (1-5)                   Roger Bacon (3-6)
Roger Bacon                           3-6 (1-5)                   at Purcell Marian (3-6)
GCL South
St. Xavier                              7-2 (2-1)                   Louisville St. Xavier (6-3)
Moeller                                    6-3 (2-1)                   Louisville Trinity (5-4)
LaSalle                                   8-1 (1-1)                   at Elder (6-3)
Elder                                      6-3 (0-2)                   LaSalle (8-1)
Other Catholic Schools
Lehman Catholic                      7-2 (5-0 NCC)                  Upper Scioto Valley (4-5)
Summit  Country Day               6-3 (3-3 MVC)                  at Lockland (3-6)
Catholic Central                       0-9 (0-6 OHC)                 at Triad (5-4)
Harkening back to older times where The Catholic Telegraph published high school football information in the print edition, we posted the collected standings and weekly opponents of all of our Catholic high school football teams here each Friday of the regular season beginning with week three.
Posted Oct. 31, 2014