LEHMAN CATHOLIC HIGH SCHOOL CROWNS KING & QUEEN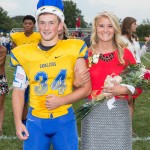 SIDNEY, Ohio — Lehman Catholic High School seniors, Jake Earhart, son of Jeff and Kelly Earhart, of Piqua, and Katie Edwards, daughter of John and Heather Edwards, of Sidney; were crowned as 2016 Homecoming King and Queen Friday night during pre-game festivities of the Upper Scioto Valley football game.
Along with Earhart and Edwards, many other class and club representatives were recognized as part of the annual Homecoming Court.
Lehman Catholic High School is a co-educational Roman Catholic High School in the Archdiocese of Cincinnati. Originally Holy Angels High School founded in 1889, the school was named after Monsignor Edward C. Lehman when Holy Angels and Piqua Catholic High Schools merged in 1970.