Lenten Activities Continue at Maria Stein Shrine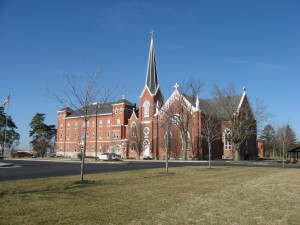 MARIA STEIN, Ohio (March 22, 2017) – Maria Stein Shrine of the Holy Relics will continue Lenten Season with a few more events.
Lent & Life: A Journey of Conversion continues this Sunday, March 26 and next Sunday, April 2. These next two Sunday afternoons from 2 p.m. to 3:15 p.m. include: exposition of the Blessed Sacrament, proclamation of sacred scripture, extended reflection, silent adoration and concluding blessing and hymn. The remaining themes include: "Conversion: Be Holy as God is" and "Easter Conversion: From Death to Life".
Continuing into April, on Thurs., April 6 at 10 a.m. the Maria Stein Adoration Guild will host a seminar led by Sister Joyce Ann Zimmerman, C.PP.S. The topic will be, "Prayer: Basking in God's presence". This seminar will consider what prayer is, when and how we pray, what are the prerequisites for prayer, examine different forms of prayer, and practice composing prayers according to liturgical patterns. The session will be a combination of reflection on and practice of various forms of prayer, with an eye to looking at how prayer is an encounter with God that deepens our relationship not only with God, but also with each other.
Lenten activities at the Shrine will conclude with a Lenten day of reflection, Sat., April 8 at 2 p.m. This afternoon of prayer, reflection & reconciliation will include prayer with the relic of the True Cross & reflection, "Seeking the Path of Life by Way of the Cross", led by Susan Jenkins, pastoral activities minister at the Shrine. Priests will be available for reconciliation & veneration of the True Cross from 2:30 p.m. – 3:30 p.m. To conclude the day, at 3:30 p.m. spiritual Stations of the Cross will take place. This version was originally prayed by Pope St. John Paul II on Good Friday 1991, and are an alternative to the traditional fourteen stations. They pull directly from the Gospel accounts of Christ's passion and death. This allows for deeper reflection on events such as Christ in the Garden of Gethsemane, Peter's denial, and the promise of Paradise to the good thief.
There is no charge for any of these events, however a free will offering will be taken.
The Maria Stein Shrine of the Holy Relics provides faith nourishment and spiritual renewal through opportunities for prayer and pilgrimage and inspiration from the lives of the saints. People from around the world visit the shrine to explore and enjoy this environment rich in holiness and history. The Relic Chapel is home to the second largest collection of relics of the saints in the United States.
The Shrine is located at 2291 St. John's Rd. in Maria Stein. To learn more about the Maria Stein Shrine of the Holy Relics, visit www.mariasteinshrine.org.