Letters About Mom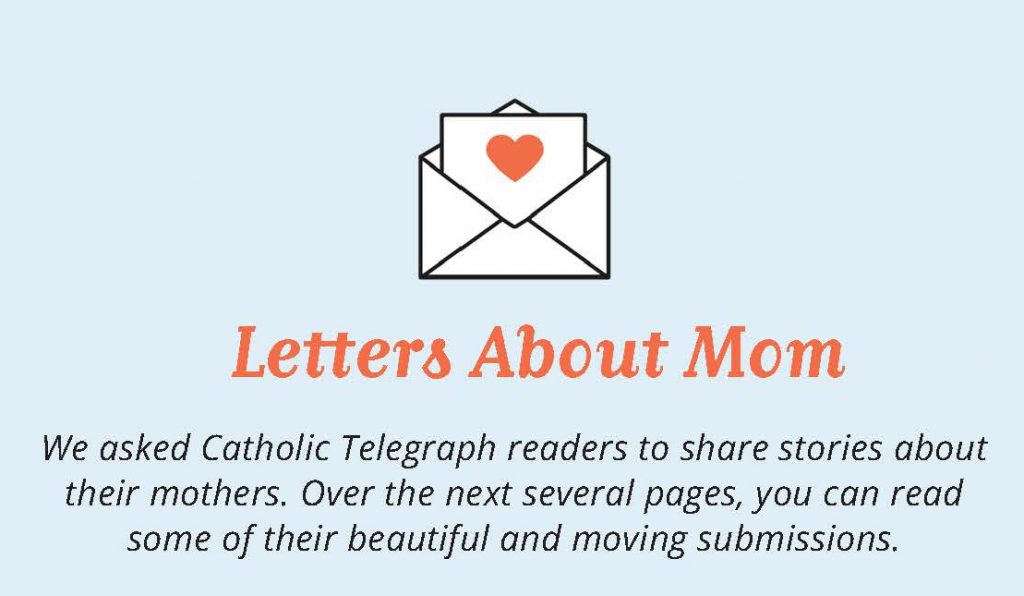 EMILY ALESHIRE MULVEY, IMMACULATE HEART OF MARY PARISH, ANDERSON TOWNSHIP
One year ago, my mom was actively dying from a brain tumor. Her illness was short but severe, she was diagnosed on Dec. 26, 2019, and passed away on Mar. 28, 2020. As I journey past all those one-year milestones: the last radiation treatment, the day she came home from the hospital and entered hospice care; the last day she spoke before falling asleep permanently and her final hour, I am challenged, like all those who mourn, to not allow myself to sink lower, but to hold tightly to faith and the promises Jesus made in the Sermon on the Mount. The last hour my mom was on earth, I will always remember how her breathing suddenly changed from a "death rattle" to a beautiful humming. Every exhale she made the last hour of her life was a hum. My mom was singing. I often played acapella hymns on YouTube as I sat with my mom. When I realized she was singing with her last breaths, I turned that YouTube channel on again. But, instead of cycling through about 50 hymns as it had done before, now the channel was playing four songs on repeat: "Thank you Lord," "My God and I," "Sing to Me of Heaven" and "This World is Not My Home." Somehow, by divine intervention, we were given the perfect playlist for these final moments and my mom and I "sang" her way homeward, heaven-bound.
In the hospital, my mom kept telling me that I should be a hospital chaplain. And now, one year and day to the anniversary of her birth into eternity, I start a new job as a chaplain with Mercy Health.
MARICRIS DIZON, IMMACULATE HEART OF MARY PARISH, ANDERSON TOWNSHIP
Mom, thanks for teaching me how to suffer well… When I was laid off from a job, I was devastated. When I told her what happened, she cried for me, but not because I was unemployed! Rather because she was so happy God blessed me with this cross. She said, "It's such a blessing to be called to endure this hardship and losing this job is a gift!" She was right. Mom, thank you for teaching me who to turn to first…I went to a Catholic school, and I remember being told as I was dropped off every morning that I needed to stop by the Blessed Sacrament chapel before I played with the other kids. "Say hi to Jesus!" With every victory and every challenge I brought to my parents, Mom wanted to make sure I had gone to Jesus first. This habit became a part of my life and I found myself going to adoration throughout college and well into my adult years. Every dilemma, decision, victory and moment of relief, I learned to share with Jesus first. She was right. Mom, thank you for this and so much more.
JEAN BUELTERMAN, CATHEDRAL BASILICA OF ST. PETER IN CHAINS, CINCINNATI

My mom, Dorothy Buelterman, was a perfect role model for her three daughters. While I was growing up, she was the mom who helped out at school and held the office of president of the Ladies Society at church. She made sure we attended Mass, even though I would sit on the kneeler and play with people's shoes! I remember how proud she was at my First Communion and at different school events. She made sure I did my homework and knew every catechism answer, too. She and Dad made a home for us that was seemingly perfect. She was a great cook and could bake a pie that could win prizes. However, she became a single parent after my dad died too young. She worked very hard to provide a home for us. There was not a one person who, after meeting her, didn't say what an awesome person she was. She left me with many life lessons well learned.
FROM ANNE COYLE HORN, HOLY FAMILY PARISH, MIDDLETOWN
My mother, Mary Meister Coyle, was the fourth born of five children. She grew up in Hamilton and attended St. Ann Parish. She moved to Middletown when she married my father, Tom. She attended Holy Trinity/Holy Family Parish the rest of her life. Mom was a humble, quiet person and was very talented. She was an excellent seamstress. She made four wedding dresses: mine, my sister's and two for friends of the family. She cross-stitched and made birth samplers for her five grandchildren. She knitted and crocheted. Her specialty was crocheting hats for newborn babies at the hospital and crafting beautiful afghans. She was active in the community delivering Meals on Wheels and volunteering at Louella Thompson's Dream Center, serving summer lunches to children in Middletown. My birthday is in February. Every year Mom baked a heart-shaped cake with pink icing and decorated it with maraschino cherries. It was always my favorite gift! Mom babysat for my daughter and one of my nephews and enjoyed having them around. She was an avid bowler and loved the Cincinnati Reds. She would listen to the games on her radio throughout the years. Mom enjoyed traveling to Maine and Vermont with my sister and her family. Mom made sure my sister, brother and I had a good Catholic education and attended Mass on a regular basis. Every morning, my mother would sit on our sofa and prayed the Rosary. That is a great memory for me!
NICK CARPINELLO, GUARDIAN ANGELS PARISH, MT. WASHINGTON

Ruth Carpinello, my mother, God rest her soul, was mother to 11 children. She was a saintly woman, if there ever was one. How could she not be between cooking, washing, changing diapers, teaching good manners and praying (which made all the other things possible)? We had statues throughout the house. We all knew Mom would light candles and prayed through the intercession of the Blessed Mother and St. Anne. When times were tough, we prayed the Rosary. We never missed Mass. I learned to love Holy Thursday because Mom would take us to services, and I remember the awesome procession, prayers and the solemnity. Mom was strict, but fair. She was a great manager. From early on the older children learned how to help Mom with chores. We learned cooking, caring for babies and toddlers, doing laundry, including ironing clothes and doing the dishes. I remember when I complained about doing the dishes because I had a cut on my hand. Mom said, "Here look at these cuts on my hands, doing dishes will help them heal." Mom could sew, make clothes or patch what we had. And with all that, she found time to read. After Mom passed away, I inherited a lot of her religious things. I have found many well used small prayer books with notes and dates of when she prayed novenas.