Life Award for philanthropist who prefers to avoid the spotlight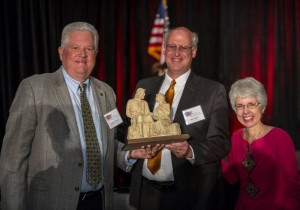 by Gail Finke
Right to Life of Greater Cincinnati gave its Life Award to Joe Brinck II, who normally tries to stay behind the scenes, at its banquet this month.
"I tried to keep it low-key!" Executive Director Paula Westwood said after introducing Jerry Horn, legal counsel for Priests for Life and an old friend of Brinck's, who flew in from Tennessee to surprise him with a short talk and a statement from Father Frank Pavone. But for one night, the man who likes to leave the spotlight to others and the glory to God received recognition from pro-life leaders around the country and a commendation from the state.
Right to Life gives the award nearly every year to someone who has worked for years to help end abortion. Previous honorees include Phil Burress of Citizens for Community Values, Mary Clark of 40 Days for Life Cincinnati, longtime pro-life activists Joan and Ray Loebker, attorney Tom Condit, and philanthropist Pat Conroy.
Brinck, a parishioner of St. James Church, White Oak, is president of Superior Thermal Ltd. and CEO of Stetler & Brinck, Ltd. A long-time supporter of pro-life causes and organizations he is currently vice president of Ruah Woods Theology of the Body Institute, he is also president of the Sanctity of Life Foundation, which helps pro-life groups around the country.
"40 Days for Life is one of the many pro-life efforts that would not have continued or grown without the support and encouragement of Joe Brinck," Shawn Carney, president of the national organization, wrote in a statement he sent for the awards dinner. "He's a faithful German Catholic with a contagious love for God and the unborn."
Brad Mattes, President and CEO of Cincinnati-based Life Issues Institute, said "Joe is highly respected and dearly loved on the national level. His deep passion for the cause and his love for the Lord permeate everything he does."
About 600 people attended the annual dinner at the Sharonville Convention Center. Ryan Bomberger, president of the Radiance Foundation, delivered the keynote talk. An advocate of, Bomberger was himself conceived in rape and adopted as an infant into a family that eventually included 13 children of different races and abilities. His work includes innovative films, print pieces, and essays about abortion, adoption, and the worth of every "unwanted" human being.
"Ryan Bomberger is an energy shot of encouragement for anyone working for human life protections," said Westwood. "He is fearless in exposing abortion industry lie, but manages to do so without losing hope and humor."
Founded by the late Dr. John Willke and his wife Barbara, Right to Life of Greater Cincinnati is the oldest Right to Life organization and helped create some of the country's first crisis pregnancy centers. Its current projects include promoting adoption and fighting abortion, euthanasia, and assisted suicide.