Life, faith of 112-year-old Corpus Christi parishioner remembered
August 3, 2012
By Patricia McGeever
Emelie Bernadine Weil's life stretched through three centuries. When she died on July 2, she was five months shy of turning 113 years old. Her family said they've been told she was the eighth oldest person in the United States, and she was documented as the world's 21st oldest living person at the time of her death.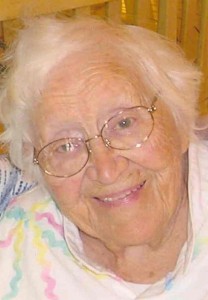 "One hundred and twelve and a half years, 11 decades, three centuries, two millennia, one lifetime." That's how Father Jim Meade began his homily at Weil's funeral Mass July 11 at Corpus Christi Parish in New Burlington, where she was a founding member.  Hers was a long life that saw agonizing loss and extreme challenges. But there were also triumphant accomplishments and the common thread through all of it was a deep devotion to her Catholic faith.
"She used pain and her prayer to polish herself," said her youngest child, Rita Weil Caldwell, of Rockledge, Fla. "She really was an inspiration. I'm real honored to be her child."
Born one of 10 children in Crescent Springs, Ky, Weil knew the value of an education because her own was cut short. She left school in the sixth grade to help her father run his grocery store. She saw to it that all of her own children received a Catholic education, sending them to the grade school at the Church of the Assumption and to Catholic high schools.
"She was adamant about faith. We had extra devotions to the Blessed Mother at home," explained  Caldwell.  For years, "we'd go every Monday night at 7:30 to the block rosary," where neighbors would gather at different homes to pray the rosary.
Her daughter said that Weil's family had suitors lined up for her to marry, but she refused them all. She met her husband, Stephen, when she was young through family connections. But instead of getting married, Weil went to nursing school in Chicago after writing a letter in both English and German to gain admittance. Eventually, after a 10-year courtship, the couple married and moved to a farm in New Burlington, where Weil would live until well into her 90's.
Weil had eight children in 10 years. She lost her fifth child, John Henry, when he was only two months old. When her husband died of pneumonia in 1943, she was left to raise seven children between the ages of two months and 19 years.
On the day Stephen Weil was buried, his widow received a letter from Father Anthony Wolf, a family friend. It was a letter of condolence, comfort and encouragement. Her son, Stephen, read part of it in his eulogy. Father Wolf told her not to despair. He wrote:  "You shall see how God can take care of those who love Him. You shall see how he will give you more than he took from you. Then you will understand that this great cross was a source of life and a cause of joy and a road to heaven." Rita Caldwell said she knows her mother re-read Father Wolf's eloquent words many times over the years.
Something else Weil read was her prayer book. Prayer was her constant companion. After her husband died, it was suggested that she put some of her children in an orphanage. Weil refused, and was determined to provide for them herself. The family had a cow, some chickens and a huge garden on their farmland. She canned her own tomatoes. She sold off a few lots of her property when she needed money. When Corpus Christi became a parish, Weil donated land to archdiocese for the church. The land wasn't used and she saved up to buy it back.
Weil eventually returned to nursing, retiring at age 75. She then worked for another 10 years with three of her children at their businesses. A knee injury forced her into retirement and into a wheelchair. But, at age 99, she took up painting, and in her later years, that and praying occupied her days.
Father Meade, pastor of Corpus Christi Parish, didn't meet Weil until she was 102, but Betty Blessing has known her since 1943.
"I just loved that woman," said Blessing, who is a strong age 95, herself. "I have known her since 1945. I saw her once a week until she moved to Indiana 12 years ago."
Blessing used to take Communion to Weil and read to her from the Bible. When Weil moved to Milan, Ind., to live with her son, Bob, and daughter-in-law, Marilyn, Father Meade would bring Blessing out to see her about four times a year.  "I refer to her as a saint of God," he said of Weil.
"Our visits were wonderful. Really uplifting for me," Father Meade recalled.
"I have to chuckle about this. Every time I would go visit her, she would want to go to confession. At 102 what could she have done?"
Weil was a pre-Vatican II Catholic and remained very traditional in her faith.
"I saw her regularly once a month on First Fridays," said Father Frank Eckstein, a retired priest in Milan serving St. Charles Borromeo Parish. "She'd go to confession every time. She would always insist on kissing the priests hands."
Father Eckstein said Weil prayed several rosaries a day and many litanies. "She was Catholic to the bone."
Through the years, Weil's mind stayed sharp and her vision clear, with only her hearing starting to fade in the last year or so. Father Eckstein said Weil really wanted to go to heaven and talked about making that final journey for the past 10 years. Caldwell said her mother often said to her, "Why am I still here? I think He's forgotten me."
More than 300 people packed Corpus Christi to give her a proper send-off. They celebrated her life — its longevity, its accomplishments and unwavering dedication to her faith. Father Meade ended his homily the same way he began it: "One hundred and 12 and a half years. 11 decades, three centuries,  two millennia, one lifetime." But he added three more words, "And now, eternity."