Looking Back: The Ordination of Rev. Robert Muhlenkamp & Rev. Timothy Ralston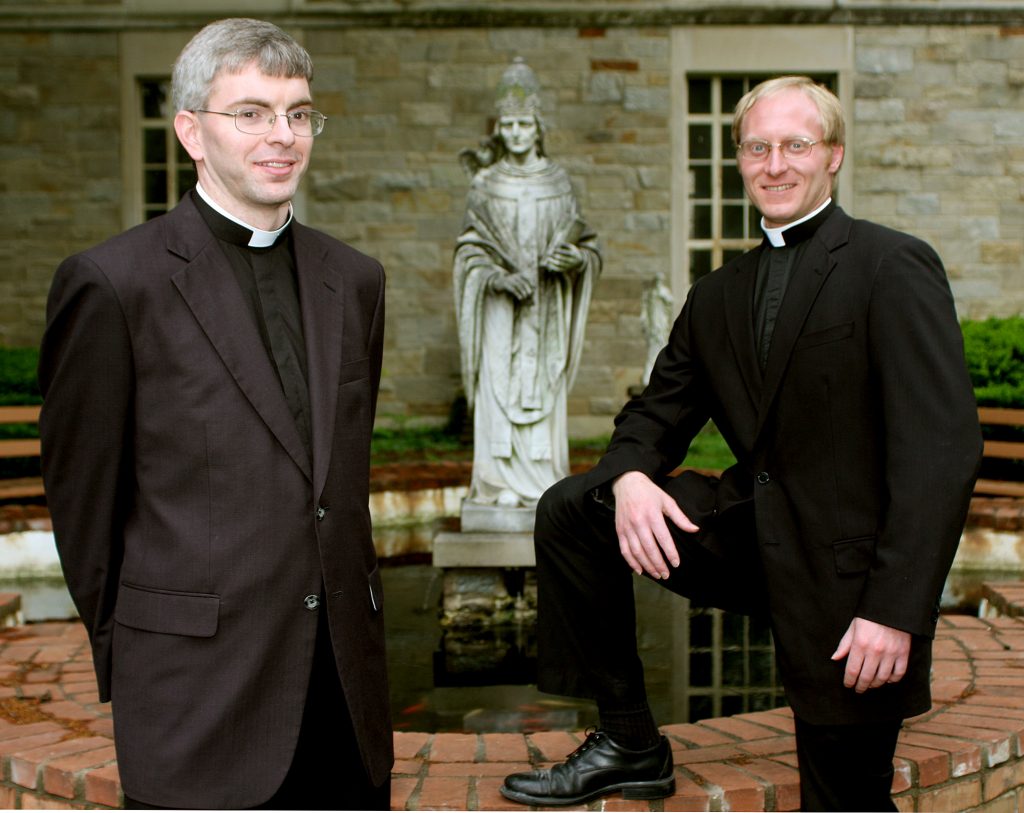 This article originally appeared in the May 21, 2010 edition of The Catholic Telegraph
ARCHDIOCESE — God calls men to the priesthood at different times in their lives. Some begin discerning the call while still in their teens. Others embark on different careers before they begin priestly formation.
This year two men are being ordained to the priesthood for the Archdiocese of Cincinnati. One heard God's call early and entered college seminary straight out of high school. The other spent a year in medical school before following his true vocation.
They will be ordained by Archbishop Dennis M. Schnurr May 22, 11 a.m., at the Cathedral of St. Peter in Chains.
Deacon Robert Muhlenkamp
Growing up the third of six boys in a Catholic family on a dairy farm in Coldwater, Deacon Robert Muhlenkamp thought he would someday be married with a family of his own. "All through high school I always looked up to my parents, my aunts and uncles, so I thought the best way to serve God is to raise a family and bring them up in the faith and teach them to love God," he said. "It wasn't until my sophomore year of college that I started thinking about the priesthood." Deacon Muhlenkamp was raised in Holy Trinity Parish and graduated from Coldwater High School.
As a student Ashland University studying math and chemistry, he became involved with Newman Catholic Campus Ministries and was asked to lector at Mass on campus during his sophomore year.
"As I stood up to read from the Scriptures, I looked out at all my peers and a thought came into my mind that these people are hungry. And with the grace of God I can feed them," he said. "So I had to figure out what that meant."
Two months later, Deacon Muhlenkamp, 28, was home for Christmas when Father Ronald Wilker, then-pastor at Holy Trinity, called him into the sacristy and encouraged him to attend a welcome
weekend at Mount St. Mary Seminary in Cincinnati.
"I knew at that point [the priesthood] was something I had to consider. That's the first time I thought about it at all. I did go to that welcome weekend in April, and there was a real sense of peace at the seminary," Deacon Muhlenkamp said. "It's just that sense of discernment and prayer. There's a restlessness when you're not doing what God is calling you to, and there's a sense of peace when you are following the promptings of the Spirit."
He contacted Father Mark Watkins, then-archdiocesan vocations director, while continuing his college studies. He graduated in 2003 but wasn't quite ready for the seminary. He entered medical
school at The Ohio State University. He continued to wrestle with a calling to the priesthood. Medical school is difficult on its own, he said, adding that it is tougher if one is doing it half-heartedly. It
was a challenging year, and not just academically. "I knew I wasn't where I was supposed to be. I knew that I had to try the seminary. That became very clear," he said. "I met great friends during that year, and I got strong support from them, but there was always that inner tension, especially at prayer, that something's got to give."
He continued to discern the call to the priesthood, making retreats, including one at the Abbey of Gethsemani in Kentucky.
He also went to another welcome weekend at the seminary.
Deacon Muhlenkamp spent the summer after his year in medical school in China working in hospitals and staying with missionary families. He filled out most of the seminary application before he left for China and began formation in 2004.
"The seminary is a unique opportunity to pray and to study, because you don't have other responsibilities," he said. "No matter where I am, wherever I might have been serving God, I would want to pray and to study the faith, and so I'm thankful that I had the time to do that."
His internship year was served at St. John the Baptist Parish in Tipp City with Father Marc Sherlock, giving him a feel for parish life.
"You do observe firsthand the parish dynamics and the dynamics of the parish staff," Deacon Muhlenkamp said. "It was the first opportunity to work with parishioners as a member of the parish staff."
As a transitional deacon, he participated in three of his cousins' weddings, celebrating the sacrament of marriage at two and assisting with the wedding Mass at a third.
His family sensed his calling was a good fit. While they said little, "the Catholic culture of the area and the Catholic culture within my family indicated that they were supportive of my decision."
Deacon Muhlenkamp's first Mass of Thanksgiving will be May 23 at 5 p.m. at Holy Trinity Church in Coldwater. He will also celebrate Masses of Thanksgiving June 5 at 5 p.m. and June 6 at 8 and 10:30 a.m. at St. John the Baptist Church in Tipp City.
Deacon Timothy Ralston
Timothy Ralston was a ninth-grade Mass server at St. George Parish in Georgetown when the pastor at the time, Father Earl Metz, first suggested that he should think about becoming a priest.
A religious formation teacher at the parish made a similar suggestion, but the high school student didn't embrace the idea.
"I don't remember really saying much in response to it," Deacon Ralston said. "It was something that I decided I didn't want for myself, and I definitely didn't want to talk about it with anybody. "I basically said, 'If you want me to do this, Lord, I'll do it but only because you want me to do it. I don't want it for myself. I want you to give me something else.' "A lot of it was due to the fact that I didn't view myself as being worthy of the call," he said. "I didn't view myself as having the necessary gifts to be a good priest, to be an effective priest."
Deacon Ralston, 31, is the son of Gerald and Rebecca Ralston and has a sister, Amy. He graduated from Georgetown High School. He was active in St. George Parish and later at St. Michael Parish in
Mt. Orab.
At St. George, "being a small parish, we didn't have a lot of servers, so I got to do it quite often," he recalled. "I ended up loving serving Mass. I think that was part of what [Father Metz] saw, just kind of an attraction to the Mass and being at the altar."
He prayed and thought about the possible vocation all through high school, where he enjoyed typical experiences like playing basketball, watching movies and hanging out with friends.
"I took my faith very seriously as far as wanting to know the faith, wanting to read about the faith, wanting to love the faith," he said. "I still wasn't at the point where I could embrace the possibility of the priesthood for my life. Even as I prayed, there was still a lot of hesitancy about it."
Deacon Ralston attended the University of Cincinnati, earning a bachelor's in philosophy. Though he was undecided about a career, he understood that philosophy would benefit him in formation if
he did choose to attend the seminary.
"During college there was a transformation in my thinking about the priesthood," Deacon Ralston said. "It got to the point where I was more open to discussing it as a possibility with other people."
He wanted specific direction from God, but he eventually found it through others. People he didn't know well raised the possibility of a priestly vocation: a housekeeper, a girl in the college dorm who said her mother was praying for him to go to the seminary.
After graduation he was still doubting his own worth and skills. For two years he worked and prayed and discussed the priesthood with Father Metz and Father Mark Watkins, then-archdiocesan vocations director. Both told him the only way he would know for sure was to try. An encounter with a stranger solidified the decision. The man sat in the back pew that Saturday morning at St. Michael in Mt. Orab, one of about a half dozen people in the church. Deacon Ralston, who regularly served that Mass, had never seen him there before. After Mass the man approached Deacon Ralston, who was still wearing his alb, and asked him pointblank if was going to the seminary or not.
"I was a little stunned by the question, so I just looked at him and said 'I think I'm going to try in the fall,'" Deacon Ralston said. "He didn't take his eyes off me and said 'Good.' Then he turned and
walked out of the church. I've never run into him again."
The years in the seminary have helped Deacon Ralston build a stronger relationship with God and helped him develop a deeper prayer life. He has gained a better appreciation of the gifts God has given him.
His year-long internship was spent at Incarnation Parish in Centerville working with Father Lawrence Mierenfeld. The large, suburban parish of nearly 4,000 families was an adjustment from his own rural parishes. Still, it was a great experience, he said.
"I learned a lot from Father [Mierenfeld] just on the need for balance in the priest's life," he said. "The spiritual life, the day-to-day running of the parish, time for recreation, relaxation, the need to maintain friendships both with lay people and especially with other priests, being able to discuss some issues with them.
"I learned that there is still great desire out there for the sacraments, for the word of God, for God's presence among us, for having God in our lives every day," he said. "I saw it in so many different people there."
Looking ahead, Deacon Ralston has a single goal: Do God's work.
"The only thing I want to accomplish is to do the will of Christ," he said. "I want to bring Christ to the people and the people to Christ. I'm going to do that through the sacraments, through preaching, through the other priestly ministries, through teaching. What it comes down to is salvation of souls."
Deacon Ralston's Masses of Thanksgiving will be May 23, 11 a.m., at St. Michael Church in Mt. Orab and May 30, noon, at Incarnation Church in Centerville.